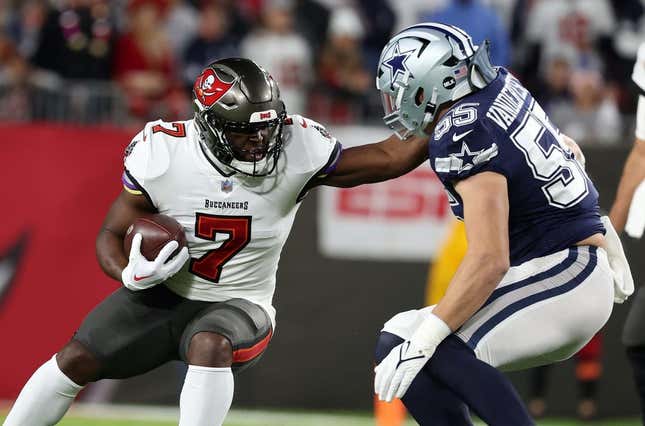 Running back Leonard Fournette is expected to be released by the Tampa Bay Buccaneers at the start of the new league year, NFL Network reported on Tuesday.
Is Texas or Florida State a bigger national title contender? | Agree to Disagree
The new league year begins March 15.
Fournette is in line to receive $2 million in guaranteed salary for 2023. Provided Fournette's exit comes as a post-June 1 designation, the Bucs will save over $1.5 million on the salary cap, per NFL Network.
Fournette told the Tampa Bay Times that he asked for his release, noting that star quarterback Tom Brady's retirement played a role in his decision.
"Winning is everything," Fournette said. "That's all. And in my last three years here, that's all we've done. But since my guy (Brady) left, that's why I came, so my time here was up."
Fournette also told the newspaper that there's no "bad blood" with the Buccaneers.
The move to cut bait is not a surprise considering Fournette was supplanted by then-rookie Rachaad White toward the end of last season.
Fournette, 28, signed a three-year, $21 million extension prior to the 2022 season. He rushed for 668 yards and three touchdowns and added 73 catches for 523 yards and three scores in 16 games (nine starts).
Fournette has rushed for 4,478 yards and 34 touchdowns and added 312 catches for 2,219 yards and seven scores in 79 career games (61 starts) with the Jacksonville Jaguars and Buccaneers. He was selected by the Jaguars with the fourth overall pick of the 2017 NFL Draft out of LSU.
White, 24, rushed for 481 yards and one touchdown in 17 games last season. He was selected by the Bucs in the third round of the 2022 NFL Draft.
"Well, you're always looking to make some upgrades and some changes -- whether that's schematic or with personnel. We feel like we do have a good, solid core group (where) that can happen," Buccaneers general manager Jason Licht said of the team's rushing game. "Rachaad is a good, young back that is just scratching the surface of what he can do. We think with Ryan Jensen coming back (that) we've got a solid offensive line. ... We always want to try to upgrade there."
Licht did not note if Fournette would be released on Tuesday. He said the veteran "still has several years left in him as a three-down back."
--Field Level Media