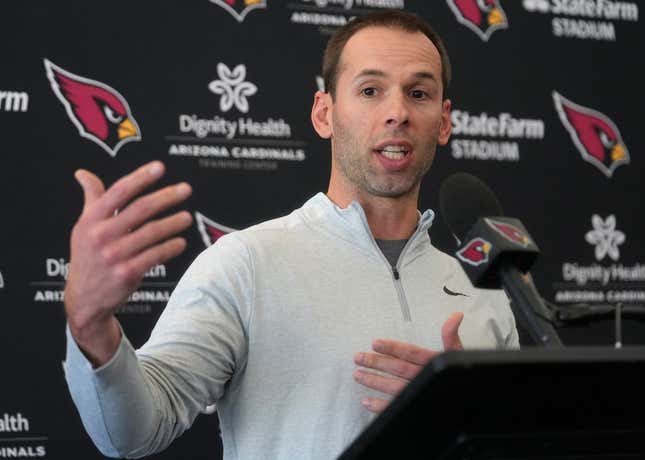 The Arizona Cardinals have heard from at least six teams interested in moving into the No. 3 overall spot in this month's NFL draft, ESPN reported Monday
Bass' ERA stinks, but not compared to who he is off the mound | Worst of the Week Countdown
The team is weighing whether to trade out or make its pick at No. 3, per the report. The Cardinals are the only team in the first four picks that would not be drafting a quarterback
Bryce Young and C.J. Stroud, in some order, are expected to go to the Carolina Panthers and Houston Texans with the first two picks, with the Indianapolis Colts also expected to draft a QB at No. 4.
The Cardinals have been linked to Alabama edge rusher Will Anderson Jr
It's unclear if the teams that reportedly want to move up are seeking a quarterback. The Colts, perhaps, might want to swap with the Cardinals to prevent being leapfrogged. But the rest of the teams in the top 10 are not expected to draft QBs
The Seattle Seahawks (No. 5), Detroit Lions (No. 6), Las Vegas Raiders (No. 7) and Chicago Bears (No. 9) are all committed -- publicly, at least -- to their own quarterbacks for 2023, the Raiders having signed Jimmy Garoppolo in the offseason. Geno Smith was given a new contract in Seattle and Jared Goff is coming off a renaissance season in Detroit. The Bears already traded out of the top spot, fully into second-year QB Justin Fields.
The Atlanta Falcons (No. 8) are more tepid in their commitment to second-year QB Desmond Ridder, as are the Washington Commanders (No. 16) with Sam Howell.
The Tennessee Titans (No. 11) have 34-year-old Ryan Tannehill while the New York Jets (No. 13) are expected to land Aaron Rodgers at some point. Tannehill is entering the final year of his contract while 2022 third-round pick Malik Willis enters his second season.
The Tampa Bay Buccaneers are QB-needy but sit way back at No. 19. Same for the Baltimore Ravens at No. 22, facing an uncertain future with Lamar Jackson.
--Field Level Media