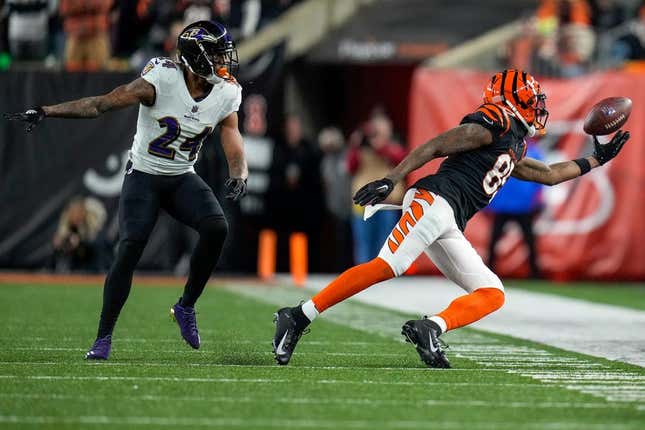 Free agent cornerback Marcus Peters is visiting with the Las Vegas Raiders on Monday as he looks to firm up where he will play in 2023, The Athletic reported.
Aaron Rodgers should go full Joe Namath | Comedian Bert Kreischer
A two-time All-Pro, Peters missed the 2021 season with a torn ACL and returned to the Baltimore Ravens last season to start 13 games. He made 47 tackles and added a sack, an interception and two fumble recoveries
The Kansas City Chiefs selected Peters with the 18th overall pick in 2015, and he went on to earn rookie defensive player of the year honors that year.
In all, he has played in 104 games (103 starts) with the Chiefs (2015-17), Los Angeles Rams (2018-19) and Ravens (2019-20, 2022)
Peters, 30, has 346 tackles, 32 interceptions (six returned for touchdowns), 11 forced fumbles and 10 fumble recoveries with one returned for a TD.
Coach John Harbaugh told reporters earlier this month that bringing Peters back to Baltimore wasn't out of the question.
"I don't think you ever really close the door on any personnel move. Whoever it might be," Harbaugh said. "You'd probably ask me about Marcus and whatever other corners are out there. You don't close the door on good players and good people, you just see how it goes."
--Field Level Media