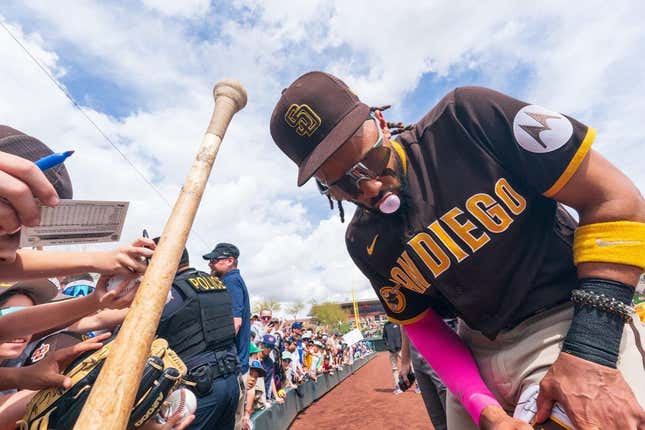 San Diego Padres star Fernando Tatis Jr. is beginning a rehab assignment Tuesday, the San Diego Union-Tribune reported
Bass' ERA stinks, but not compared to who he is off the mound | Worst of the Week Countdown
Nearing the end of his 80-game, performance-enhancing drug suspension, Tatis will join Triple-A El Paso ahead of his expected activation April 20. The Padres open a four-game road series against the Arizona Diamondbacks that day
Tatis, 24, who signed a 14-year, $340 million contract before his 2021 All-Star season, hasn't played a major league game since the end of that campaign.
He led the National League in homers (42) that year despite missing 32 games with shoulder trouble, and slashed .282/.364/.611 with 25 stolen bases.
He's working his way back from a pair of left wrist surgeries and left shoulder surgery, all in the past 13 months.
Tatis resumed baseball activities in January and posted a .273/.340/.432 line in 16 spring training games. He played 14 games in right field - his new position - and two as the designated hitter.
Since spring training ended, Tatis has worked out at the Padres' spring complex in Arizona, facing Yu Darvish and Joe Musgrove in simulated games
With infielders Xander Bogaerts, Jake Cronenworth and Manny Machado signed to long-term deals, the Padres moved Tatis to right field. Bogaerts took over at shortstop, Tatis' former position
San Diego advanced to the National League Championship Series last season without Tatis.
Over three seasons with the Padres, Tatis is a .292/.369/.596 hitter with 81 home runs, 195 RBIs and 13.6 WAR in just 273 games
--Field Level Media