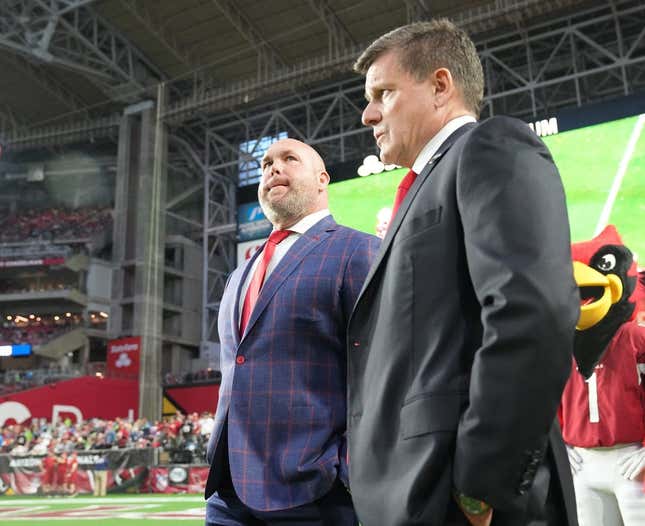 Terry McDonough, who previously served as the Cardinals' vice president of player development, is accusing owner Michael Bidwell and the team itself of defamation and invasion of privacy because of comments Arizona posted on its website and gave out to the media, ESPN reported Monday
Bass' ERA stinks, but not compared to who he is off the mound | Worst of the Week Countdown
McDonough reportedly submitted an amended arbitration complaint to Jeffrey Mishkin on Friday, and it included the claims of defamation and invasion of privacy. Mishkin, who was selected by the NFL to serve as an arbitrator, will be attempting to help McDonough and the Cardinals work out the dispute
According to the complaint, Bidwell and the team "publicly disclosed private facts about McDonough" and made "false and defamatory statements about McDonough." Supposedly the team knew those statements "to be false" as part of an "effort to intimidate and harass (McDonough) and his family members."
"We are aware of the amended complaint and remain confident in our position," the Cardinals said in a statement. "We are precluded from commenting further based on an existing confidentiality order that binds all parties.
This isn't the first time that McDonough has brought accusations upon Bidwell, as he sent an arbitration claim to commissioner Roger Goodell on April 4 that stated Arizona's owner was guilty of gross misconduct, including cheating, discrimination and harassment.
Arizona denied those claims through a public relations advisor outside of the organization. In fact, the Cardinals responded with claims against McDonough, saying that they "learned of disturbing allegations of extreme domestic violence by Terry," which included financial abandonment of one of his children
McDonough's amended complaint made reference to that statement by the team, stating that it was "untrue and reprehensible."
When reached out to for an interview, McDonough declined to comment, saying he was acting in accordance with the league's arbitration confidentiality rules. Michael Caspino, McDonough's attorney, also declined an interview.
--Field Level Media