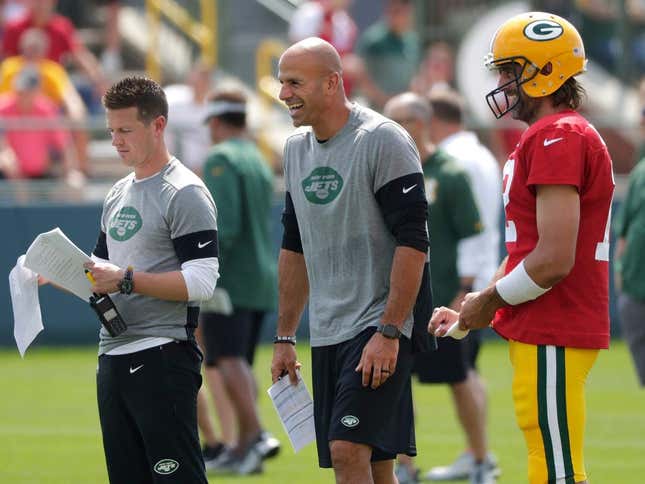 If the Jets find the answer to the $59.5 million question, Aaron Rodgers will be the next quarterback for the franchise.
Is Texas or Florida State a bigger national title contender? | Agree to Disagree
According to ESPN and the New York Post, the Jets returned home from their visit with Rodgers optimistic his next stop will be New York.
All that stands in the way of a trade that could become official no earlier than March 15 at 4 p.m. ET is a trade amenable to the Green Bay Packers and a contract workable for the Jets.
Rodgers signed a three-year, $150 million deal prior to the 2022 season, ending aggressive flirtation with retirement. That contract calls for a fully guaranteed $59.5 million in 2023, with $58.3 million as an option bonus.
Rodgers said in February he would expect to restructure the deal if he played another season for the Packers.
Green Bay would take a cap hit of $40.3 million if Rodgers is traded without adjusting the deal, or pushing the bonus to a split structure.
If he's traded to any team, including the Jets, under terms of his current deal, Rodgers would count only $15.8 million against his new team's cap in 2023 and $32.5 million in 2024.
A trade for Rodgers could be executed on the first day of the NFL league year, March 15. Similar deals in recent years involving Matthew Stafford (Detroit Lions to Los Angeles Rams), Russell Wilson (Seattle Seahawks to Denver Broncos) and Deshaun Watson (Houston Texans to Cleveland Browns) brought significant draft capital in return.
Rodgers was named NFL MVP in 2011, 2014, 2020 and 2021, but his 2022 numbers weren't up to his own standards as the Packers rebuilt his receiving corps and dealt with injuries on the offensive line. He completed 64.6 percent of his passes for 3,695 yards and 26 touchdowns while tossing 12 interceptions.
Packers general manager Brian Gutekunst said last week at the NFL Scouting Combine that the team was waiting to hear from Rodgers about his 2023 plans. He also said the Packers knew backup Jordan Love was "ready to play and needs to play."
Love is entering the final year of his four-year rookie contract with the Packers facing a May deadline to pick up his fifth-year option for the 2024 season.
--Field Level Media