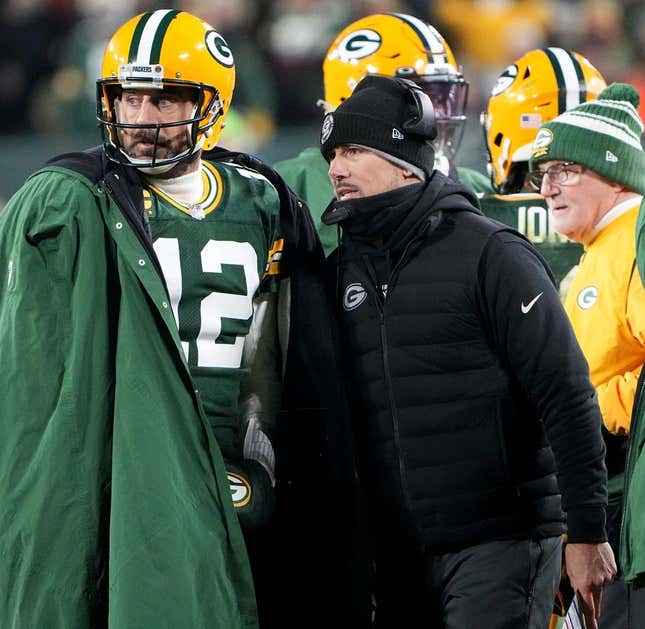 The New York Jets and Green Bay Packers are talking again about a trade for four-time MVP quarterback Aaron Rodgers after "a dormant couple of weeks," NFL Network reported Sunday
Will South Beach Flu give the Heat home court advantage? | Keep it a Buck(et)
An immediate trade isn't likely, but there are hopes the teams can finally reach an agreement this week, per the report.
The NFL draft begins Thursday with the first-round picks and runs through Saturday. The Jets have the No. 13 overall pick, with the Packers slated to select two spots behind them
Packers' officials haven't addressed the potential trade since April 12, when president and CEO Mark Murphy told reporters he didn't have an update
In mid-March, multiple reports indicated the Packers wanted at least a first-round draft pick for the 39-year-old Rodgers, but perhaps the asking price has dropped. The Packers already have indicated they play to move on from Rodgers, who signed a three-year, $150.8 million contract extension in March 2022, and insert Jordan Love at the position
Rodgers was named NFL MVP in 2011, 2014, 2020 and 2021, but he endured one of the worst seasons of his career in 2022. He completed 64.6 percent of his passes for 3,695 yards and 26 touchdowns while tossing 12 interceptions.
Love, 24, has completed 50 passes in two seasons with three touchdowns and three interceptions. He was the 26th overall pick in the 2020 draft.
For his part, Rodgers has said he expects to be playing for the Jets come September
The Jets currently have three quarterbacks on their roster, led by Zach Wilson, the No. 2 overall pick in the 2021 draft whose on-field performances has been underwhelming
Also on the roster are Tim Boyle, who is Rodgers' one-time backup, and Chris Streveler. Combined, they have played in 26 NFL games with four starts.
--Field Level Media