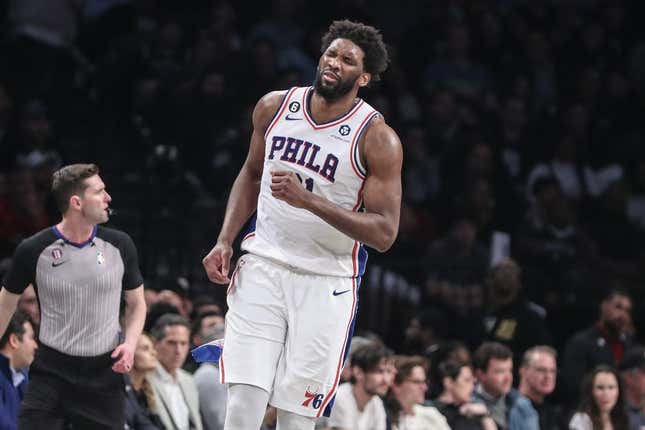 The Philadelphia 76ers will play without star center Joel Embiid on Saturday against the Brooklyn Nets after an MRI revealed he suffered a sprained right knee, ESPN reported Friday evening
Will South Beach Flu give the Heat home court advantage? | Keep it a Buck(et)
The 76ers are going for a sweep of the Nets in the best-of-seven series with Game 4 on Saturday afternoon in New York
ESPN reported that the Sixers were optimistic Embiid could play as early as next week.
Embiid spent most of Game 3 on Thursday laboring on the floor as the host Nets tried to goad him into responding to their aggressive tactics. He finished with 14 points and 10 rebounds in 38 minutes and was a key to the 102-97 victory.
He went to the locker room toward the end of the first quarter and later returned early in the second quarter. After entering the game, he soon got tangled up with Nets forward Cameron Johnson under the basket. Embiid appeared to injure his right ankle and grabbed at it during a couple of trips up and down the floor.
He didn't leave the game immediately. In the second half, he fell while defending Johnson on a drive to the basket and limped on his way up the court but didn't leave the game.
Embiid was observed using a large ice pack on his knee after the game but said he was all right, ESPN reported.
Embiid averaged 33.1 points per game this regular season to lead the league. He also averaged 10.2 rebounds and 4.2 assists per contest. In three playoff games, he is averaging 20.0 points, 11.3 rebounds, 4.0 assists, 2.3 blocks and 1.0 steal in 35.9 minutes.
--Field Level Media