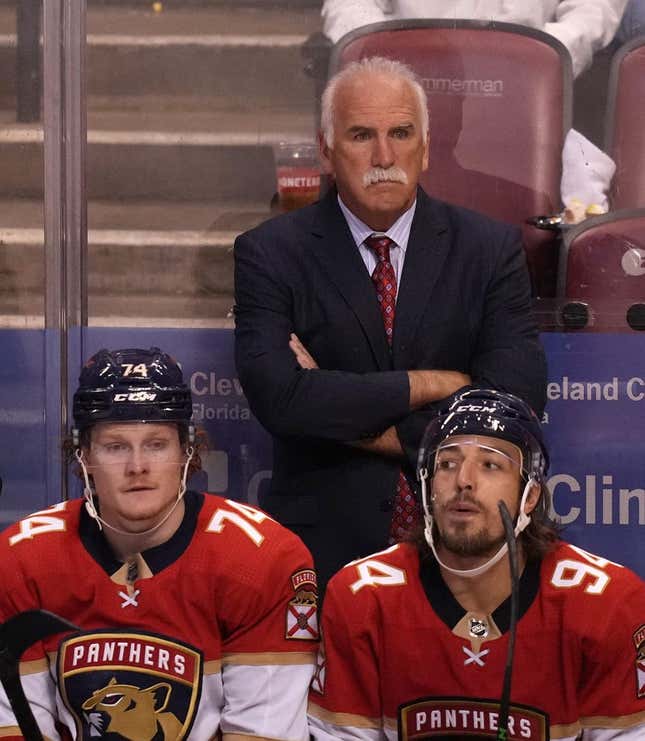 NHL commissioner Gary Bettman will meet with Joel Quenneville to review the veteran coach's status with the league following the Stanley Cup Playoffs, TSN reported Friday.
Bass' ERA stinks, but not compared to who he is off the mound | Worst of the Week Countdown
Quenneville has been out of the NHL since October 2021, when he resigned as head coach of the Florida Panthers. His resignation came after an independent investigation into how the Chicago Blackhawks handled a sexual assault allegation in 2010 implicated Quenneville and other then-Blackhawks leaders for their inaction in the case.
Quenneville was the head coach in Chicago when then-player Kyle Beach said he was sexually assaulted by Brad Aldrich, who was the video coach. The report found that Blackhawks officials didn't want to take any action against Aldrich at the time because they didn't want to disrupt the team's path to the Stanley Cup title.
TSN reported in November that Quenneville -- the second-winningest coach in NHL history -- wanted to coach again after a year off. Five NHL franchises have openings: the Anaheim Ducks, Washington Capitals, Columbus Blue Jackets, Calgary Flames and New York Rangers.
If any team wants to hire Quenneville, the team will have the get permission from the Panthers to speak with him, and Quenneville must have a bigger conversation wtih Bettman, who must approve his return to the league.
Quenneville, 64, has a career 969-572-150 mark with 77 ties in the regular season with the St. Louis Blues (1994-2004), Colorado Avalanche (2005-08), Blackhawks (2008-19) and Panthers (2019-21).
In the playoffs, his record is 121-104 with three Stanley Cup titles, all with Chicago -- 2010, 2013 and 3015..
--Field Level Media