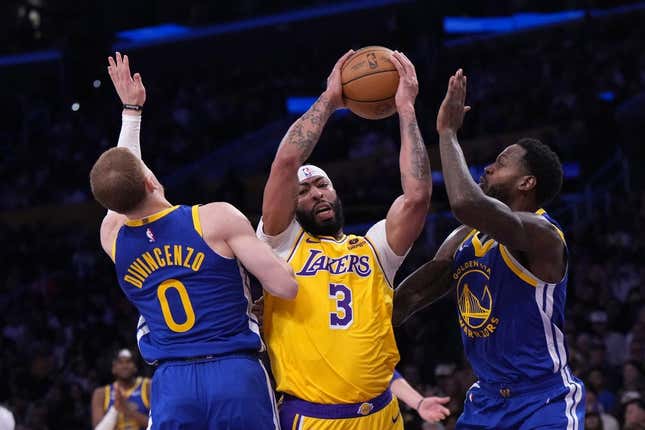 Los Angeles Lakers center Anthony Davis is expected be available for Game 6 against the Golden State Warriors on Friday night barring a setback with his head injury, TNT reported Thursday
'Soccer fandom is full of gatekeepers' says Ted Lasso actor Brendan Hunt
The Lakers have a 3-2 lead in the Western Conference semifinal series following a 121-106 loss in San Francisco on Wednesday night
With 7:34 left in the fourth quarter, Davis took an accidental elbow to the head from the Warriors' Kevon Looney as the two went up for a rebound. Davis exited the game, briefly sat on the Los Angeles bench, then headed to the locker room and did not return to action.
"He took a shot to the head," Lakers coach Darvin Ham said after the game. "He seems to be doing really good already. That's where he's at and the status of it right now.
Davis ended the night with 23 points and nine rebounds, leaving him with averages of 22.4 points and 13.4 boards per game in the series. He contributed 20.8 points and 13.7 rebounds per contest in the Lakers' six-game win over the Memphis Grizzlies in the first round of the playoffs
In 56 regular-season games (54 starts) in 2022-23, the eight-time All-Star averaged 25.9 points and a career-high 12.5 rebounds per contest.
--Field Level Media