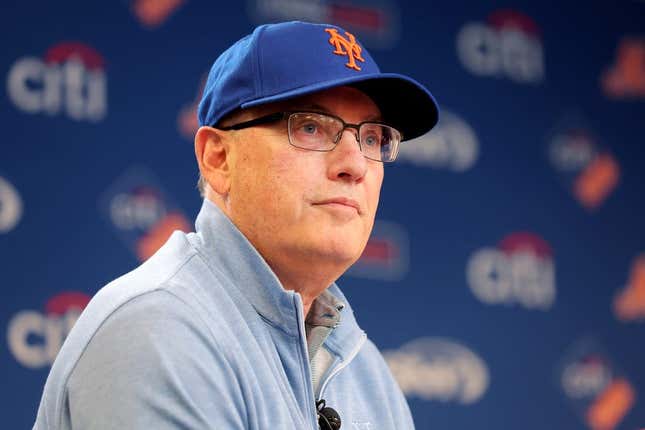 New York Mets owner Steve Cohen is looking forward to better days ahead
The New York Post reported that Cohen sent a letter to season ticket holders on Saturday to assure them the front office's recent spate of trades has set up the Mets for a bright future
How running an NFL team is like running a restaurant | Chef Emeril Lagasse
In a separate text message to the Post, Cohen promised the Mets would field a strong team in 2024, even though the real fruits of the trade haul might not be seen for a few years
"We will be competitive in '24 but I think 25-26 is when our young talent makes an impact," Cohen wrote. "Lots of pitching in free agency in '24. More payroll flexibility in '25. Got a lot of dead money in '24.
In the letter, obtained by the Post, Cohen said how disappointed he was by the 2023 season, in which the Mets had a payroll north of $350 million
The Mets enter their road game Saturday against the Baltimore Orioles with a 50-59 mark and in fourth place in the National League East. Before the trade deadline, the Mets dispatched Cy Young Award winners Justin Verlander and Max Scherzer, outfielders Tommy Pham and Mark Canha, and closer David Robinson in trades
"We added several key pieces to our team, but things have not turned out how we planned," Cohen said in the letter. "You are rightfully disappointed and so are we
"This is not where we wanted to be in 2023. Our goal is to be a consistent contender. The only way to do this in a sustainable way is to build a pipeline of high caliber talent in our farm system that will fuel our major league team for years to come.
Among the players the Mets received in the trades were Double-A infielder Luisangel Acuna, the brother of Atlanta Braves MVP candidate Ronald Acuna, who is ranked in the top 50 prospects in baseball
"Our front office was able to acquire young, exciting athletes who excel in multiple facets of the game. These include top prospects, infielders Luisangel Acuna, Marco Vargas, Jeremy Rodriguez, Jeremiah Jackson, outfielders Drew Gilbert, Ryan Clifford, catcher Ronald Hernandez and right-handed pitchers Justin Jarvis, Coleman Crow and Landon Marceaux," he said
"It's going to be fun watching them rise through our system as they develop and learn to win together.
--Field Level Medi