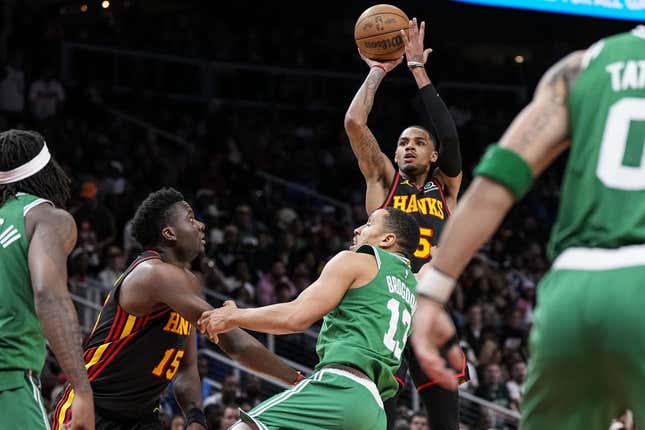 The NBA is investigating Atlanta Hawks guard Dejounte Murray, who appeared to bump and then exchange words with a game official at the end of Sunday's Game 4 home loss to the Boston Celtics, according to ESPN
'Soccer fandom is full of gatekeepers' says Ted Lasso actor Brendan Hunt
As Murray was walking off the floor, he appeared to make contact with Gediminas Petraitis and then yell something at him before leaving the court.
Murray, 26, did not speak to reporters after the game, a 129-121 Boston win that gave the Celtics a commanding 3-1 lead in the first round Eastern Conference series.
Murray's fate could come quick; Game 5 will be Tuesday in Boston.
Murray is not new to confrontations with officials. Murray, then with San Antonio, was ejected from a game last season at the Memphis Grizzlies for throwing the ball off the legs of a referee. He was fined $20,000.
Murray had 23 points, nine rebounds and six assists in 40 minutes Sunday. He's averaging 25.3 points, 7.3 rebounds, 5.8 assists and 2.3 steals through four games in the series.
Murray averaged 20.5 points, 5.3 rebounds and 6.1 assists in 74 starts this season.
--Field Level Media