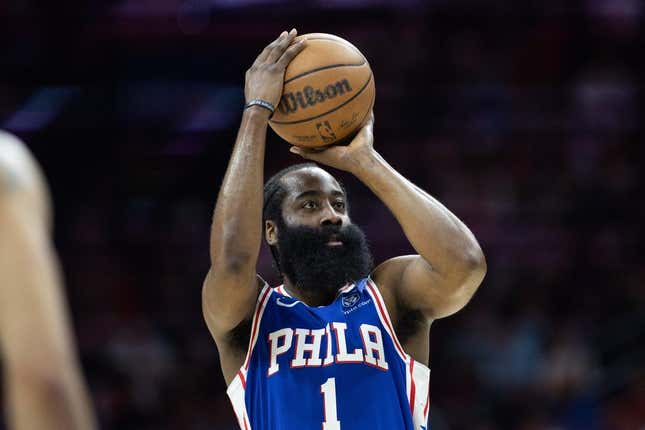 For the third time in as many years, James Harden wants a change of scenery.
But he might not get it.
In late June, the 10-time All-Star opted into his $35.6 million player option for next season, allowing him to work together with the 76ers to find a way out of town
Is Texas or Florida State a bigger national title contender? | Agree to Disagree
In the weeks since -- mostly crickets, according to Sports Illustrated.
Harden, 33, prefers to move west to the Los Angeles Clippers, who are reportedly interested -- but not at the going asking price of Terance Mann and likely first-round draft picks.
The New York Knicks were another team initially expected to engage in potential trade discussions, according to multiple sources, but no action has come from that front.
"He's wishing for a different situation contractually. ... If we can do something that is win-win, helps the Sixers, then we will look at it. If we can't, then we won't," Sixers general manager Daryl Morey said Tuesday during an interview with Philadelphia's 97.5 FM.
Meanwhile, back at Harden's current home, relationships have felt the effects of Harden's request. After nearly a decade of working together, dating to their time in Houston, Harden and Morey are reportedly at odds.
When Harden wanted out of Houston in 2020, Morey sent him to his preferred destination of the Brooklyn Nets eight games into the season. After Morey had moved to the Sixers, he brought in Harden, who had demanded a trade from the Nets in 2022.
But now, "the relationship between James Harden and Daryl Morey is essentially severed, it's essentially fractured throughout this process," The Athletic reported.
For their part, the Sixers will continue to attempt to shop Harden.
"If we don't get either a very good player or something that we can turn into a very good player then we're just not going to do it," Morey said. "At this moment he does prefer to be traded and we're attempting to honor that."
Harden averaged 21.0 points, 10.7 assists and 6.1 rebounds in 58 games this past season.
The 10-time All-Star owns career averages of 24.7 points, 7.0 assists and 5.6 rebounds in 1,000 games (786 starts) with the Oklahoma City Thunder, Rockets, Brooklyn Nets and 76ers
Harden came to the Sixers in the deal that sent Ben Simmons, Seth Curry and Andre Drummond to the Brooklyn Nets.
--Field Level Media