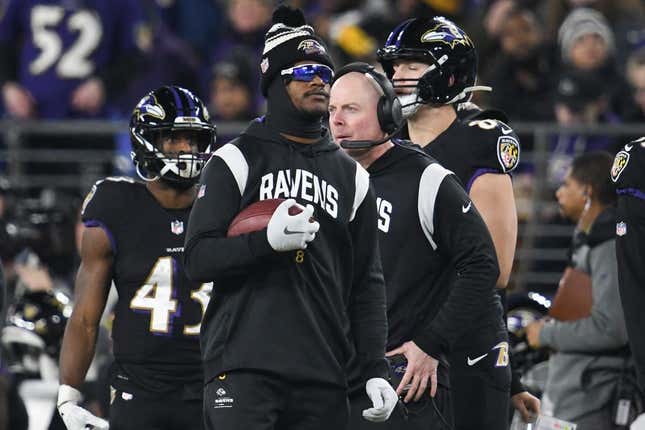 The New England Patriots are not expected to be players in the Lamar Jackson sweepstakes, despite the quarterback's reported interest in joining the team, The Athletic reported Wednesday
Patriots owner Robert Kraft set the rumor mill into overdrive earlier this week when he said he got a text from rapper Meek Mill about Jackson's interest in the Patriots. Kraft said it was up to head coach Bill Belichick
Not happening, per The Athletic.
Jackson's current contract demands and the draft capital a team would have to give up are a bridge too far for the fiscally conservative Patriots, per the report
Also, the Atlanta Falcons have removed themselves from pursuing Jackson. Falcons owner Arthur Blank told two different media outlets that despite their interest in Deshaun Watson last year, the timing now is different.
The Falcons named Desmond Ridder their starting QB for 2023.
"Every year is different," Blank told USA Today. "Deshaun was a different situation. It was a different time and space. I think Lamar is a great player ... but we look at our roster and our ability to continue to build our roster now and have salary cap freedom, which we've never had."
Jackson has asked to be traded, but the market for him is shrinking.
On Tuesday, the Tampa Bay Buccaneers, San Francisco 49ers and Detroit Lions all said they're not interested in pursuing Jackson. The Washington Commanders, New York Jets and Carolina Panthers already had stated similarly.
The Jets are actively seeking to trade for Green Bay quarterback Aaron Rodgers.
The Seattle Seahawks re-signed Geno Smith earlier this month, with coach Pete Carroll adding the team "couldn't afford" Jackson.
Indianapolis Colts general manager Chris Ballard on Monday confirmed his interest in Jackson. Colts owner Jim Irsay later in the day said Jackson's contract demands weren't an issue, but that a team has to guard against compromising "your future to do it."
"It really has nothing to do with actual dollars," Irsay said. "I mean, paying a contract like that is not a problem. I mean, it's not a problem for me. The issue is what's the right thing to do for the franchise in terms of what helps us win in the long run."
Jackson took to Twitter on Tuesday to defend himself against claims that durability is an issue with him.
"I don't remember me sitting out on my guys week 1 vs jets To week 12 vs Broncos," he tweeted. "How come all of a sudden I sit out because of money in which I could've got hurt at anytime within that time frame. When we know the Super Bowl been on my mind since April 2018."
"Let's get real. I rather have a 100% PCL than go out there and play horrible forcing myself to put my guys in a bad situation now that's selfish to me," he said in a second tweet.
Jackson missed four games in 2021 and five games in 2022 with injuries. Jackson, 26, is 45-16 as the Ravens' starter and won the NFL's Most Valuable Player award in 2019
--Field Level Media