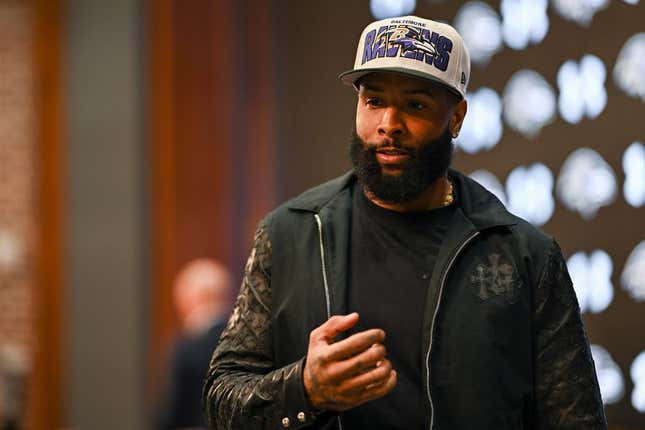 Newly signed Baltimore Ravens wide receiver Odell Beckham Jr. has been named as a suspect in an assault investigation in Los Angeles, TMZ Sports reported Friday
Aaron Rodgers should go full Joe Namath | Comedian Bert Kreischer
According to the report, a woman told police that Beckham put his hand around her neck at local hotspot Delilah several weeks ago and grabbed her throat with "light pressure."
Beckham and the woman remained at the club the rest of the night without further incident, and the woman contacted police a few days later, per the report.
A representative for Beckham told TMZ Sports that they are unaware of any investigation and that the wideout vehemently denies doing anything wrong.
"We were contacted about an investigation and reviewed the videos, the claim is false," John Terzian, owner of Delilah, told TMZ. "There is no evidence of this person even being in the area where she claims the incident occurred.''
The report comes less than two weeks after the three-time Pro Bowl wideout signed a $15 million deal with the Ravens for the 2023 season
Beckham, 30, missed the 2022 season after tearing his left ACL during the Los Angeles Rams' Super Bowl LVI win against the Cincinnati Bengals on Feb. 13, 2022.
Beckham has 531 catches for 7,367 yards and 56 touchdowns in 96 career games (91 starts) with the New York Giants (2014-18), Cleveland Browns (2019-21) and Rams. He exceeded 1,000 receiving yards in five of his first six seasons.
--Field Level Media