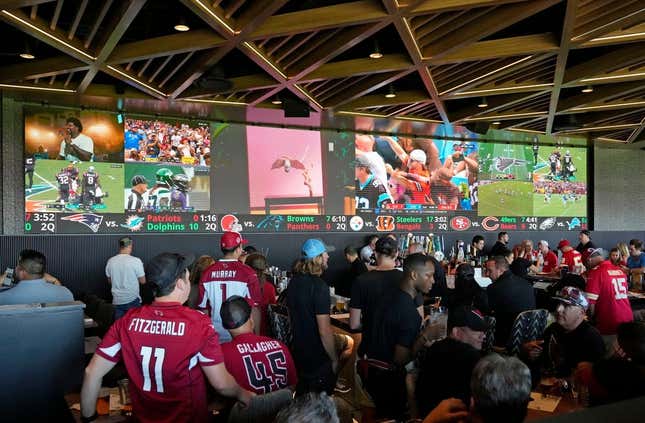 One unnamed NFL player suffered $8 million in gambling losses in 2022, Pro Football Talk reported Wednesday.
Should the NFL relax its gambling policy? | Agree to Disagree
The report, which cites a league source with knowledge of the situation, is the latest headline involving the league and betting activities.
Earlier this month, the Indianapolis Colts confirmed that one of their players is under investigation by the NFL.
SportsHandle.com reported that a Colts player was the subject of an investigation for placing "hundreds" of bets, a "considerable" number coming from inside the team's practice facility. The player placed some bets on his own team, according to the report.
Wide receiver Calvin Ridley, then of the Atlanta Falcons, was suspended for the entire 2022 season for betting on NFL games while he was away from the team. He was traded to the Jacksonville Jaguars last fall and has been reinstated for the 2023 season.
In April, the NFL suspended five more players for violating its gambling policy. Detroit Lions receiver Quintez Cephus and safety C.J. Moore and Washington Commanders defensive end Shaka Toney were handed indefinite bans for betting on NFL games, while Detroit receivers Jameson Williams and Stanley Berryhill were given six-game suspensions for betting on non-NFL events from inside an NFL facility.
Detroit has since released Cephus, Moore, and Berryhill.
—Field Level Media