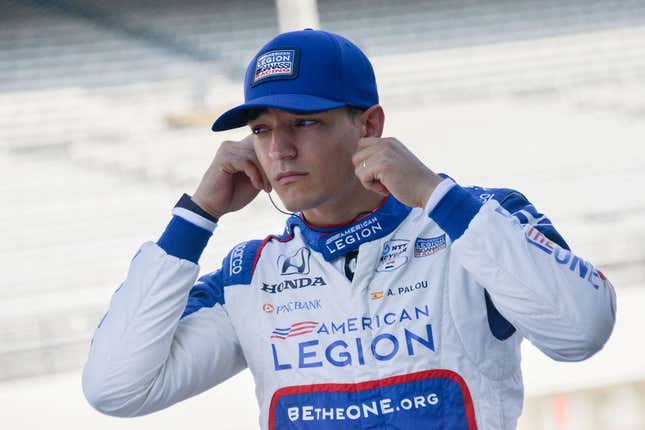 IndyCar points leader Alex Palou will not join McLaren Racing as planned at the conclusion of the 2023 season, per multiple reports.
How running an NFL team is like running a restaurant | Chef Emeril Lagasse
The Indianapolis Star reported Saturday that McLaren Racing CEO Zak Brown confirmed Palou has backed out of his contract, agreed to last fall.
"I'm extremely disappointed that Alex Palou does not intend to honor his contractual obligations to race with us in IndyCar in 2024 and beyond," Brown said, via a team statement. "That is all I have to say on the topic for the time being."
At the same time, Palou has broken from his management team, Monaco Increase Management, which negotiated the deal with McLaren. IndyStar reported that Palou had chatted with the team earlier this week, and Palou did not discuss his plans to change course.
"Monaco Increase Management is bitterly disappointed to learn about Alex Palou's decision to break an existing agreement with McLaren for 2024 and beyond," the group posted on its Twitter account. "Together, we had built a relationship that we thought went beyond any contractual obligation and culminated in winning the 2021 IndyCar crown and tracing a path to F1 opportunities. Life goes on, and we wish Alex all the best for his future achievements."
IndyStar reported that Roger Yasukawa, Palou's former manager, is now representing him.
Palou, from Spain, leads the IndyCar standings with 513 points; Josef Newgarden stands second with 429. On the season, Palou has four wins, 11 top-five finishes and 13 in the top 10. He has eight career victories and won the 2021 NTT IndyCar Series.
The IndyCar season has four races to go, including Saturday's Gallagher Grand Prix and the Indianapolis Motor Speedway.
Palou, 26, currently drives the No. 10 Honda for Chip Ganassi Racing. The two sides were embroiled in a dispute in federal court over his contract after McLaren Racing announced it had signed Palou for 2024, with the case eventually heard in mediation.
Palou has told reporters he would not comment on his future until after next month's season finale at Laguna Seca.
While Palou's future is up in the air, IndyStar reported that "a source close to the parties' negotiations" said the contract between McLaren and Palou had an exit clause should Palou get an offer to drive on the Formula 1 circuit in 2024.
IndyStar also reported that Chip Ganassi Racing has made Palou a "sizable seven-figure contract offer" for next year. Should he return to that team, it's possible McLaren could seek legal action to recover the investment it already has made with Palou in terms of a contract advance and testing for his presumed future role on McLaren's F1 team.
Palou has been an F1 reserve with McLaren this season.
—Field Level Media