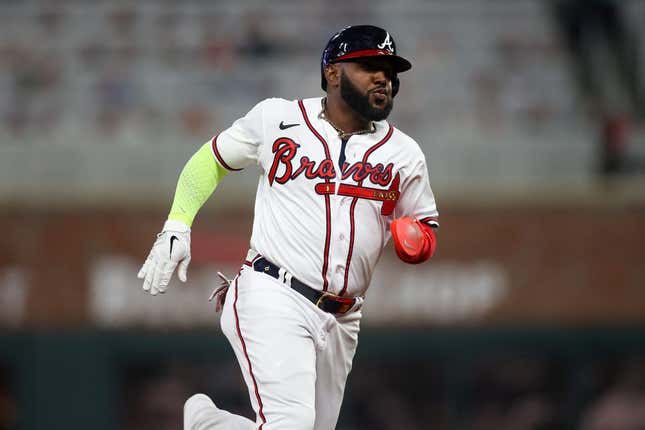 Atlanta Braves outfielder Marcell Ozuna pleaded no contest to driving under the influence and was fined $1,000, according to multiple reports Tuesday that cited records from Norcross (Ga.) Municipal Court
Ozuna, 32, was arrested and booked into Gwinnett County Jail last August after Norcross police pulled him over on suspicion of DUI and failure to maintain his lane.
The incident report said the arresting officer had to drive nearly 90 mph to catch up to Ozuna in a 35-mph zone. The report also said that, upon being pulled over, Ozuna said, 'Sorry, sorry, I'm Ozuna from the Braves.'" He declined to submit a breath sample
After he was released from jail, it wasn't long before he returned to the Braves' lineup
"I disappointed my team," Ozuna told reporters then. "I disappointed my family. I don't have anything to say more. It's a legal matter."
The incident marked Ozuna's second arrest since signing a four-year, $65 million contract with the Braves in 2021
Ozuna was arrested on assault and battery charges in May 2021 after police reportedly saw him grab his wife by the neck. He did not play the rest of the season for the Braves, who went on to win the World Series
In September of that year, Ozuna agreed to a pretrial resolution that included six months of supervision and a 24-week family violence intervention program. MLB later gave him a retroactive, unpaid suspension of 20 games for violating its joint domestic violence, sexual assault and child abuse policy.
Ozuna is batting a career-low .146 with six home runs and nine RBIs in 24 games this season, but does have four of those home runs in his last five games. He's a career .266 hitter with 202 homers, 202 doubles and 685 RBIs.
--Field Level Media