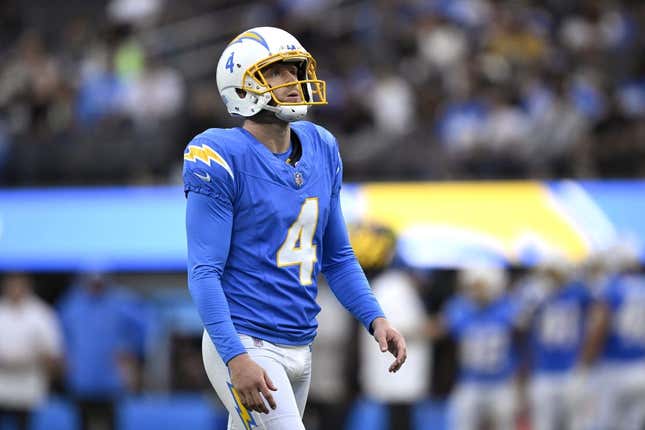 The Cleveland Browns acquired kicker Dustin Hopkins from the Los Angeles Chargers on Monday and installed him as their starter, cutting Cade York, multiple outlets reported.
How running an NFL team is like running a restaurant | Chef Emeril Lagasse
Cameron Dicker has won the kicking job with the Chargers.
The Browns are sending a 2025 seventh-round pick to the Chargers for Hopkins, per the reports.
The Browns picked York in the fourth round of the 2022 draft. He had a shaky preseason, culminating with having a potential game-winning, 43-yard field goal blocked with 54 seconds left in a one-point loss Saturday to the Kansas City Chiefs.
Hopkins spent parts of the last two seasons with the Chargers, but his season ended after five games in 2022 when he strained his right hamstring in Week 6.
The Chargers signed Dicker to replace him and the 23-year-old promptly kicked a game-winning field goal in Week 9. Dicker finished the season connecting on all 22 PATs while making 19 of 20 field-goal attempts for the Chargers. He kicked in one game for Philadelphia in 2022.
Hopkins, 32, has kicked in 109 NFL games with Washington (2015-21) and the Chargers (2021-22). He has made 190 of 224 field-goal attempts, a success rate of 84.8 percent.
York, 22, kicked in all 17 games for the Browns in 2022, connecting on 24 of 32 FGs and 35 of 37 PATs.
—Field Level Media