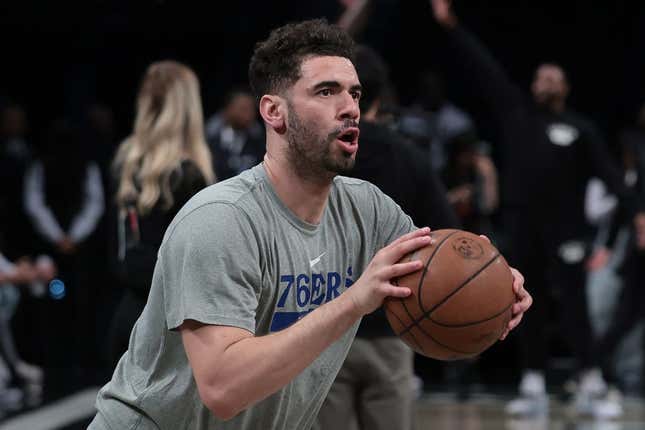 The Cleveland Cavaliers and free-agent forward Georges Niang have agreed on a three-year, $26 million contract, multiple media outlets reported Friday
How running an NFL team is like running a restaurant | Chef Emeril Lagasse
The Associated Press and ESPN reported details of the contract from Niang's agent, Mark Bartelstein.
The Cavaliers were busy earlier Friday, also keeping guard Caris LeVert in the fold with a two-year, $32 million contract, ESPN reported
The deals will not become official until July 6 due to NBA free agency guidelines.
Niang, a 6-foot-7 forward, spent the past two years with the Philadelphia 76ers and averaged 8.2 points and 2.4 rebounds while shooting 40.1 percent from 3-point range in 78 games (one start) last season.
Selected by the Indiana Pacers in the second round (50th overall) in the 2016 NBA Draft, Niang, who turned 31 earlier this month, has played for the Pacers (2016-17), Utah Jazz (2017-21) and 76ers (2021-23). He has averaged 6.5 points and 2.1 rebounds in his 383 career games (19 starts), shooting over 40 percent from deep in each of his last five seasons.
LeVert joined Cleveland in 2021 and last season averaged 12.1 points, 3.8 rebounds and 3.9 assists in 74 games (30 starts). He also set career bests with 127 3-pointers made and a 39.2 percentage from distance.
LeVert, 28, was the 20th overall pick of the 2016 draft -- picked by Indiana, like Niang -- and was traded to the Brooklyn Nets, where he played into the 2020-21 season. He was dealt to Indiana in January 2021 and shipped to Cleveland in February 2022.
For his career, LeVert averages 14.1 points, 3.8 rebounds and 3.9 assists in 392 games (210 starts).
--Field Level Media