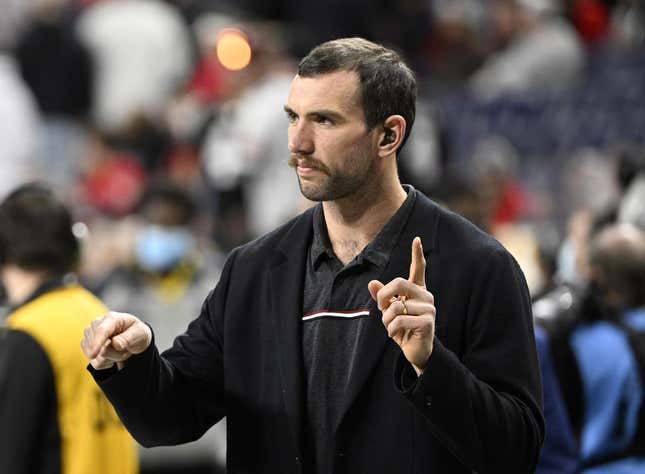 Washington Commanders officials never made contact with retired quarterback Andrew Luck or anyone in his immediate circle, clearing the franchise in a tampering probe ushered by the Indianapolis Colts
How running an NFL team is like running a restaurant | Chef Emeril Lagasse
ESPN reported the league found no immediate contact was made with Luck or persons of consequence in his inner circle, including his former agent.
The Colts own the contract rights to Luck because he retired in 2019 with three years left on his deal
Colts owner Jim Irsay created a stir around the potential violation of the NFL anti-tampering policy first in a Twitter post and later by calling league commissioner Roger Goodell
"If any NFL team attempted to contact Andrew Luck (or any associate of him) ... to play for their Franchise -- it would be a clear violation of the League's Tampering Policy," Irsay posted earlier this month.
Washington did sign former Colts starter Jacoby Brissett, who replaced Luck as the No. 1 quarterback with the Colts in 2019, to compete with 2022 fifth-round pick Sam Howell
The Commanders parted with Carson Wentz after one season. Wentz was acquired in a trade with the Colts after a failed one-year trial in Indianapolis
Both franchises have been on the quarterback carousel for multiple seasons.
Rookie No. 4 overall pick Anthony Richardson is the expected starter for the Colts in 2023 but could open the regular season behind journeyman Gardner Minshew, who played under new head coach Shane Steichen with the Philadelphia Eagles
The Colts will have a new starting quarterback for the fifth time in five seasons when the regular season kicks off in September
--Field Level Media