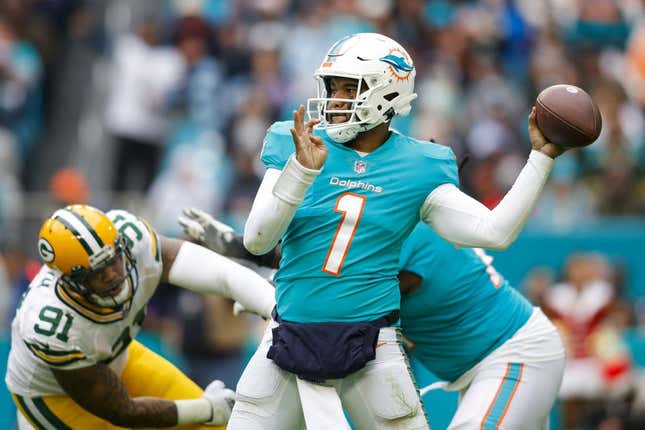 Quarterback Tua Tagovailoa's fifth-year option worth $23.2 million will be picked up by the Miami Dolphins ahead of the team's May deadline, according to multiple media reports.
How running an NFL team is like running a restaurant | Chef Emeril Lagasse
The Dolphins informed Tagovailoa of their decision as the clock ticks toward the start of 2023 free agency on March 15.
Tagovailoa's 2022 season ended on Christmas Eve after his second documented concussion of the season. He was also out Sept. 30-Oct. 22 following a head injury at Cincinnati that caused the NFL to revise the league concussion protocol.
Miami used the fifth pick in the 2020 draft to select Tagovailoa.
"You know like any other player, you factor in every variable," Dolphins head coach Mike McDaniel said at the 2023 NFL Scouting Combine. "I think one thing that when you're talking about those type of decisions, I think it's important to recognize that we have a congruence of interest by the Dolphins and the player Tua -- both parties really want him to play at a very high level for the Miami Dolphins."
The deadline for fifth-year team options is May 1, one week after the 2023 NFL Draft. Tagovailoa turned 25 on March 2, and came into the 2020 NFL Draft with questions about durability because of hip and ankle surgeries during his three seasons at Alabama.
In 2022, his first season with McDaniel, Tagovailoa posted career bests in nearly every category and was 8-5 as a starter. He had 3,548 passing yards, averaged 13.7 yards per completion with 25 touchdowns, eight interceptions and a passer rating of 105.5.
Tagovailoa said he's taking martial arts classes with the goal of learning how to absorb a fall with his body.
"You factor in everything as best you can," McDaniel said. "But you know that's a part of this game that we're all involved in, there are some unknowns and ... you make the best decision for the organization."
--Field Level Media