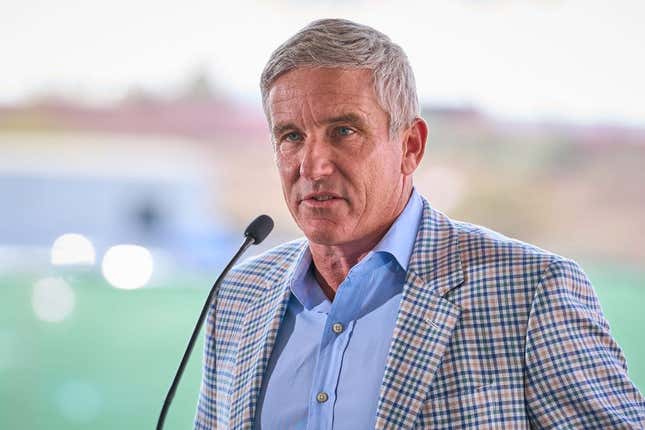 PGA Tour players are not much closer to understanding the ins and outs of the tour's "framework agreement" with Saudi Arabia's Public Investment Fund after meeting with commissioner Jay Monahan on Tuesday in Memphis, Tenn.
How running an NFL team is like running a restaurant | Chef Emeril Lagasse
Ahead of this week's FedEx St. Jude Championship, Monahan held an in-person player meeting for the first time since returning from a month-long, health-related absence.
Some players told reporters at TPC Southwind that the meeting was unproductive, with Denny McCarthy telling Golf Digest it was "pointless."
"The questions got to be repetitive," Jon Rahm said. "It was the same stuff we already knew."
Rickie Fowler told media outlets that the players have "a better understanding of how things are operating," and that the outcry following the June 6 announcement was more about the secrecy of the deal and the botched rollout of the news.
Fowler said Tuesday's meeting covered what the tour might do if the deal between the PGA Tour and PIF ends up falling apart and whether other investors might be interested in funding the so-called "NewCo," a for-profit entity the PGA Tour is planning to set up.
"I've been pretty open through the process of not necessarily being against PIF or Saudi in any way, or where the money comes from," Fowler said. "No one is clean or perfect. The tour has been in business with China for years. Not saying it's right to do something with PIF or Saudi or not.
"If our leadership ultimately thinks it's the best option to move forward and potentially for the future and that can be sold to the players and everyone is on board and sees that, or thinks that's the best option, great. We do it together."
That player leadership now includes Tiger Woods, who was announced as a new, sixth player director last Tuesday as the PGA Tour met player demands for more transparency and control of the direction of the tour.
"They have to get a majority, if not unanimous, as far as board and player support," Fowler said.
The agreement requires that a deal be finalized by Dec. 31 unless both sides agree to extend that deadline. Tom Hoge feels "it's a very real possibility" that a deal might not be finalized.
"There's a lot of moving parts that have to come together for it," he said.
Rory McIlroy and Patrick Cantlay were among the notable players who did not attend the meeting. McIlroy and Cantlay are board members who have been involved in previous meetings with the commissioner.
Also on Tuesday, PGA Tour chief tournaments and competitions officer Andy Pazder resigned from his post after working for the tour for more than 30 years. ESPN reported that his decision to resign was not related to the framework agreement with the PIF — as was the case with former policy board member Randall Stephenson, who stepped down last month.
—Field Level Media