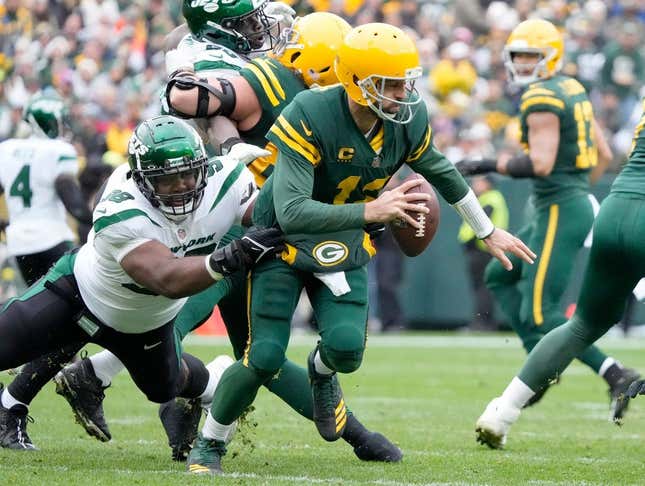 A group of New York Jets officials traveled to California to meet with quarterback Aaron Rodgers on Tuesday with permission from the Green Bay Packers, per multiple reports.
Is Texas or Florida State a bigger national title contender? | Agree to Disagree
The private plane was set to touch down Tuesday afternoon, with coaches and personnel representing the Jets heading to in-person meeting with Rodgers. The two sides talked on Monday in an introductory conversation.
ESPN, The Athletic and longtime Packers reporter Bob McGinn said the end of the line has arrived for the Packers and Rodgers, with McGinn citing team sources that the front office already has decided to move on from the four-time MVP quarterback.
Rodgers, 39, has direct ties to Jets offensive coordinator Nathaniel Hackett, who was hired in January.
A trade for Rodgers could be executed on the first day of the NFL league year, March 15. Similar deals in recent years involving Matthew Stafford (Detroit Lions to Los Angeles Rams), Russell Wilson (Seattle Seahawks to Denver Broncos) and Deshaun Watson (Houston Texans to Cleveland Browns) brought significant draft capital in return.
Rodgers was named NFL MVP in 2011, 2014, 2020 and 2021, but his 2022 numbers weren't up to his own standards as the Packers rebuilt his receiving corps and dealt with injuries on the offensive line. He completed 64.6 percent of his passes for 3,695 yards and 26 touchdowns while tossing 12 interceptions.
Packers general manager Brian Gutekunst said last week at the NFL Scouting Combine that the team was waiting to hear from Rodgers about his 2023 plans. He also said the Packers knew backup Jordan Love was "ready to play and needs to play."
The Jets made "veteran quarterback" a top priority in the offseason at the direction of team owner Woody Johnson. Johnson said the need was the "missing piece" after New York pushed for a playoff spot behind a youth movement that included NFL Defensive Rookie of the Year Sauce Gardner and Offensive Rookie of the Year Garrett Wilson.
Under terms of his existing contract, Rodgers is scheduled to make $58.3 million in 2023 as part of a three-year, $150 million contract he signed last year.
His salary represents a hurdle for Green Bay regardless of the outcome of trade talks. If the Packers trade Rodgers before June 1, the transaction results in a $40,313,750 cap hit in 2023.
If he were traded after June 1, the Packers could spread the hit over the next two years: $15,833,750 in 2023 and $24,480,000 in 2024.
Rodgers spent four days on a "darkness retreat" in Oregon, confined to a 300-square foot dwelling that was partially underground, in February. He said the point of the exercise was to be alone with his thoughts, to find full clarity and peace, and calibrate his emotions.
"There's a finality to the decision. I don't make it lightly," he said on a podcast last week. "I don't want to drag anybody around. I'm answering questions about it because I got asked about it. I'm talking about it because it's important to me. If you don't like it and you think it's drama, and you think I'm being a diva or whatever, then just tune it out. That's fine. But this is my life. It's important to me. I'll make a decision soon enough and we'll go down that road. I'll be really excited about it."
Hackett was a first-time head coach with the Denver Broncos last season. He was fired in December. Before that, Hackett was Rodgers' offensive coordinator in Green Bay (2019-2021).
The Packers traded Brett Favre to the Jets in 2008, clearing the way for Rodgers to start. Favre had announced his retirement in March of that year, but reversed the decision in June.
--Field Level Media