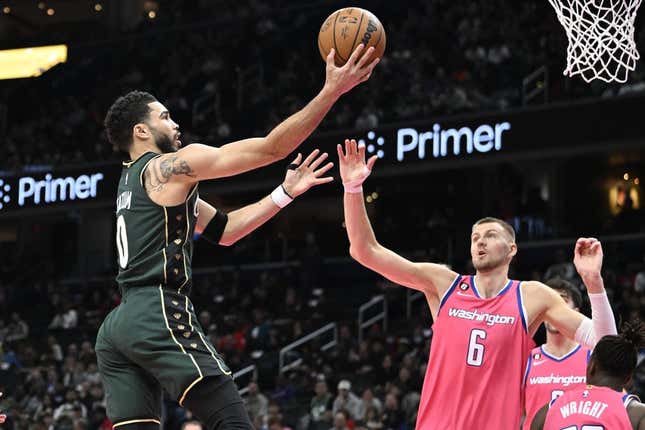 Kristaps Porzingis could be headed for the Celtics as part of a three-way trade involving Boston, the Washington Wizards and Los Angeles Clippers
Is Texas or Florida State a bigger national title contender? | Agree to Disagree
According to reports, the swap involves Porzingis to Boston and Celtics guard Malcolm Brogdon relocating to L.A., with Clippers forward Marcus Morris and draft picks being offered to the Wizards. ESPN and Stadium reported the deal gained steam Wednesday, one day before the 2023 NBA Draft
The Wizards are reportedly looking for a new home for point guard Chris Paul, who was acquired in the Bradley Beal trade from Phoenix earlier this week
ESPN and Yahoo reported the Celtics were also kicking the tires on a trade for Suns center DeAndre Ayton
After the two sides set the groundwork toward a four-year, $180 million extension in March, Washington reportedly re-engaged Porzingis about a new contract before the looming deadline for his 2023-24 player option worth $36 million. But the 7-foot-3 forward appears intent on testing free agency or being traded for the third time in his career. Porzingis, drafted by the Knicks, was traded to the Dallas Mavericks in 2019 and then acquired in February 2022 by the Wizards
Porzingis, who turns 28 in August, averaged a career-high 23.2 points per game last season.
Brogdon exclusively played off the bench in Boston in 2022-23 and averaged 14.9 points and 3.7 assists per game.
The former Bucks and Pacers guard landing with the Clippers could chart the course for Paul and another veteran at the position -- unrestricted free agent Russell Westbrook. Westbrook joined the Clippers following a contract buyout in Utah. The Jazz acquired Westbrook from the Lakers at the deadline.
Morris, 33, averaged 11.2 points and 4.0 rebounds per game with the Clippers last season and is owed $17.1 million next season.
--Field Level Media