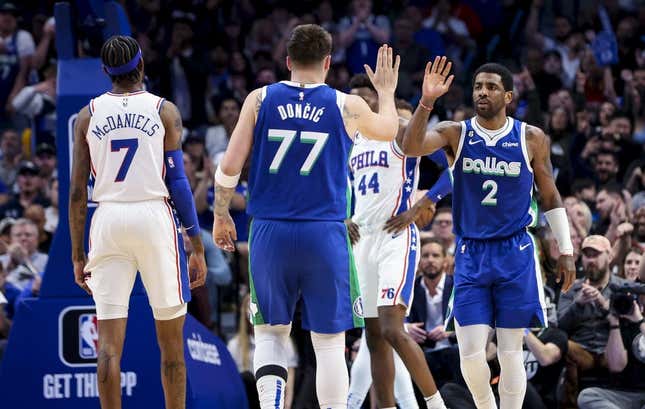 Kyrie Irving agreed to a three-year, $126 million deal to return to the Dallas Mavericks, according to multiple reports Friday
How running an NFL team is like running a restaurant | Chef Emeril Lagasse
Irving played 20 games with the Mavericks last season and was an unrestricted free agent, but he quickly removed himself from the market to rejoin Luka Doncic in Dallas
The agreement, reached in principle and not official until July 6, includes a third-year player option, according to ESPN.
Irving was eighth in the NBA in scoring last season, at 27.1 points per game, along with averaging 5.5 assists and 5.1 rebounds.
Due to injuries, Irving and Doncic were paired for just 16 games and fell out of the Western Conference playoff race by going 5-11 as a tandem. But Doncic referred to Irving as a great teammate, and general manager Nico Harrison felt strongly that Irving wanted to be back as soon as the season was over.
"It's a great fit," Doncic said at the end of last season. "Obviously, people are going to say no but ... look at the results we are having. But, like I said, chemistry and relationships take time. I wish he could still be here. He's a great player. He just wants peace, a great person."
Irving, 31, demanded a trade from the Nets to force his way out of Brooklyn in February, which cost Dallas a 2029 first-round pick, multiple second-round picks, Dorian Finney-Smith and Spencer Dinwiddie.
Irving spent six seasons with the Cleveland Cavaliers, who drafted him first overall in 2011, was traded to the Boston Celtics in 2017 and bolted for Brooklyn as a free agent in 2019.
He averages 23.4 points, 5.7 assists and 3.9 rebounds per game in 671 career games over 12 seasons.
--Field Level Media