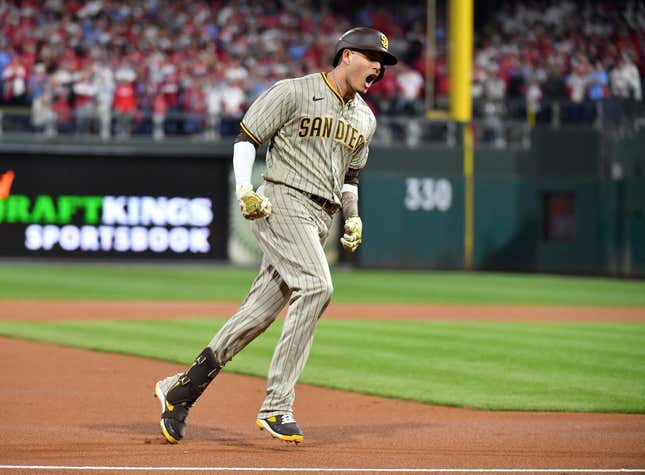 The San Diego Padres and All-Star third baseman Manny Machado are putting the finishing touches on an 11-year, $350 million contract extension, ESPN reported Sunday.
The deal will take Machado, 30, into his 40s. He said last week he would opt out of his current contract after the season and walk away from five years and $150 million without an extension.
The agreement would continue the Padres' massive spending with the goal of winning the franchise's first World Series title. Machado is one of five Padres players on the active roster earning more than $20 million a year, joining pitchers Joe Musgrove and Yu Darvish, shortstop Xander Bogaerts and outfielder Juan Soto.
Soto will become an unrestricted free agent following the 2024 season.
Machado signed his current 10-year, $300 million contract with the Padres on Feb. 21, 2019, and it included a player option after five seasons. Since then, he's seen the market for infielders reset, with the Los Angeles Angels' Anthony Rendon ($35 million) and the St. Louis Cardinals' Nolan Arenado ($32.5 million) earning more than their fellow third baseman in terms of average annual value per contract.
Shortstops Corey Seager of the Texas Rangers ($32.5 million), Carlos Correa of the Minnesota Twins ($33.3 million) and Francisco Lindor of the New York Mets ($34.1 million) also earn more than Machado's $30 million per year.
Machado, 30, has slugged 108 home runs and driven in 340 runs in his first four seasons in San Diego. He has an OPS of .855 with the Padres and finished third in the National League MVP voting in 2020 and second last year.
A six-time All-Star and two-time Gold Glove winner, Machado has a lifetime batting average of .282 with 1,597 hits, 283 homers and 853 RBIs with the Baltimore Orioles (2012-18), Los Angeles Dodgers (2018) and Padres.
--Field Level Media