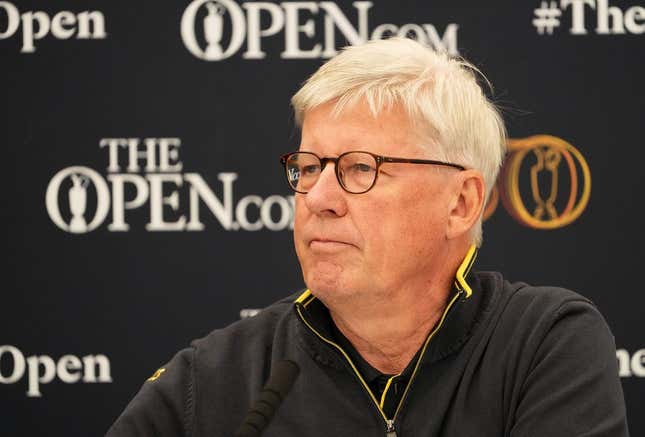 Officials from the Public Investment Fund of Saudi Arabia held a hush-hush meeting with Martin Slumbers, the R&A chief executive, during the final round of The Open Championship on Sunday, multiple outlets reported Tuesday.
How running an NFL team is like running a restaurant | Chef Emeril Lagasse
Slumbers said last week before the Open teed off that he was open to talk to "various potential sponsors," which included the Saudis.
Golfweek reported that PIF governor Yasir Al-Rumayyan and his associate, Amanda Staveley, entered Royal Liverpool in Hoylake, England, with the assistance of an R&A sponsor. Their talks with Slumbers were "more symbolic than substantive," The Telegraph reported.
Still, according to The Telegraph, the Open was the first time Al-Rumayyan had been part of the inner circle at a major tournament.
Al-Rumayyan runs the investment fund, which The New York Times reported manages more than $700 billion in Saudi government money. It is the financing source behind LIV Golf, which got some of the PGA Tour's top players to defect by offering them millions in earnings.
The PGA Tour, DP World Tour and LIV Golf last month agreed to a plan to unite their commercial interests under one umbrella organization, giving Al-Rumayyan a seat at the table.
"We have a number of large corporate partners that help us make this thing happen," Slumbers said last week. "I think the world has changed in the last year. It's not just golf. You're seeing it in (soccer). You're seeing it in F1. You're seeing it in cricket. I'm sure tennis won't be that far behind. The world of sport has changed dramatically in the last 12 months, and it is not feasible for the R&A or golf to just ignore what is a societal change on a global basis. We will be considering within all the parameters that we look at all the options that we have."
The formation of LIV Golf last year was widely denounced by PGA Tour players and others who were critical of taking Saudi money because of the country's human rights record.
--Field Level Media