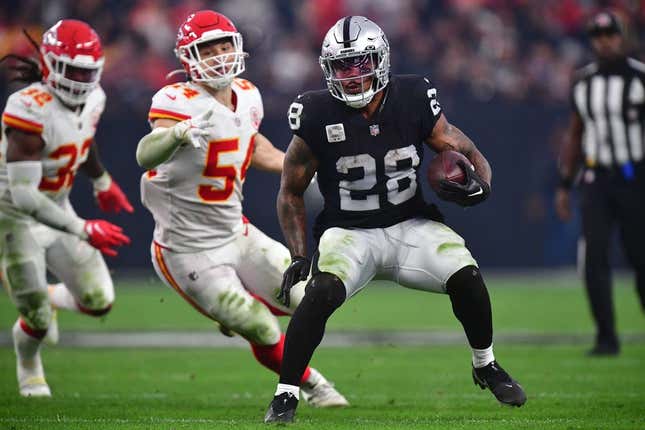 The Las Vegas Raiders plan to place the franchise tag on running back Josh Jacobs if the two sides haven't worked out a long-term deal by Tuesday's deadline to use the tag, multiple outlets reported Friday.
The franchise tag for running backs is $10.09 million for the 2023 season.
Jacobs led the NFL with 1,653 rushing yards and 2,053 all-purpose yards last season in his fourth NFL season, all with the Raiders. He had a base salary of $2.1 million in 2022.
Last offseason, Las Vegas declined to pick up Jacobs' fifth-year option of $8.03 million for the 2023 season.
Jacobs, a two-time Pro Bowl selection, said recently that he would prefer to sign a long-term contract with the Raiders. Even if Las Vegas applies the tag on Jacobs, the two sides will have until mid-July to negotiate a contract.
Jacobs, 25, has rushed for 4,740 yards and 40 touchdowns in 60 games over four NFL seasons. He also has 160 receptions for 1,152 yards.
Jacobs is third Raiders running back to win the rushing title, joining legendary Marcus Allen (1985) and Clem Daniels (1963, AFL).
He was a first-round draft choice (24th overall) in 2019 out of Alabama.
--Field Level Media