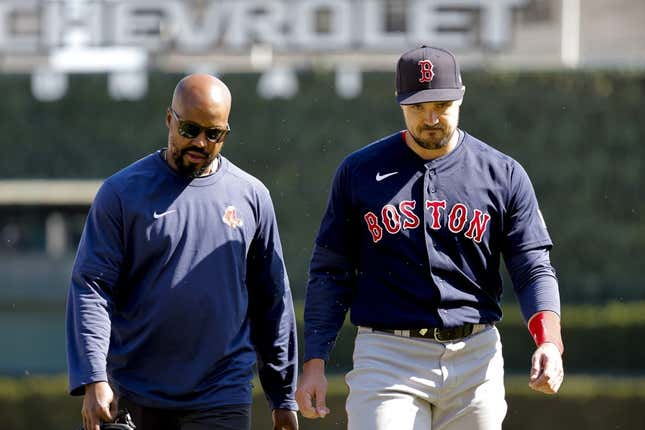 Boston Red Sox outfielder Adam Duvall has a broken left wrist, and the team doesn't know yet whether he will need surgery, manager Alex Cora said Monday
'Soccer fandom is full of gatekeepers' says Ted Lasso actor Brendan Hunt
Cora provided no timetable for Duvall's return.
Duvall, 34, injured his wrist after landing awkwardly on it while fielding a ball in the ninth inning of Sunday's 4-1 win over the Detroit Tigers. Duvall came up holding his wrist and left the game with the team trainer and Cora.
While the Red Sox traveled to Florida for a four-game stint against the still-undefeated Tampa Bay Rays, Duvall remained in Boston to undergo further testing on the wrist, which has been a problem for Duvall in the past. He was limited to just 86 games last season because of a left wrist injury and had season-ending surgery in July as a member of the Atlanta Braves
He signed a one-year, $7 million contract with the Red Sox in January
The injury comes at an especially inopportune time as Duvall started off the regular season on a hot streak, hitting .455 with four home runs, 14 RBIs and 11 runs over his first eight games.
Multiple reports said Duvall would be placed on the 10-day injured list, with the Red Sox recalling infielder Bobby Dalbec from Triple-A Worcester
In seven games this season, Dalbec has gone 6-for-23 (.261) with a .357 on-base percentage and .522 slugging percentage. The 27-year-old has six runs, one homer, five RBIs, four walks and 10 strikeouts.
Duvall is a .233 career hitter with 167 home runs and 492 RBIs in 838 games with the San Francisco Giants (2014), Cincinnati Reds (2015-18), Atlanta Braves (2018-21, 2022), Miami Marlins (2021) and Red Sox
--Field Level Media