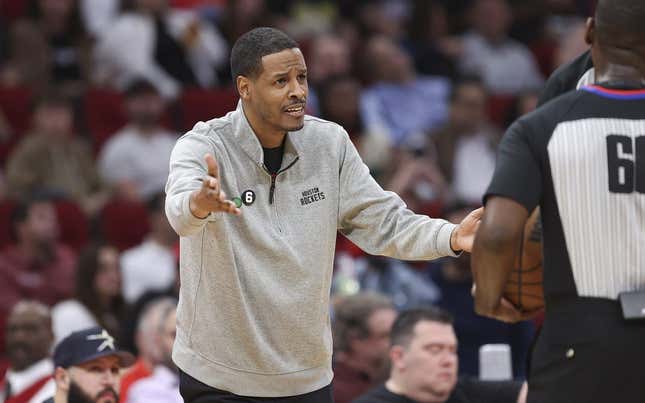 The Houston Rockets will be in the market for a new coach as they plan to part ways with Stephen Silas on Monday, according to published reports
Chris Paul should ride the bench next season | Keep it a Buck(et)
Silas coached the Rockets to a 59-177 record over the past three seasons. He reportedly will be notified during a Monday meeting that his fourth-year option will not be picked up
Silas, 49, has been the leader during a deep rebuilding period for the franchise. Houston closed the regular season on Sunday with a 114-109 victory over the Washington Wizards for its fourth win in five games to finish 22-60.
The 22-win campaign is the best under Silas, the son of former NBA player and coach Paul Silas. The club went 17-55 in 2020-21 and 20-62 last season.
Word was circulating about Silas' dismissal as he met with reporters after Sunday's road win.
"I feel proud," Silas said. "I wanted to be a head coach my whole life ... to be like my dad. I'm proud of these guys, proud of their hard work, proud of their growth and their maturity as they got through the season.
"Obviously, there's been a lot of talk about my job for a long time, for a couple months. They kept playing and kept working and trying hard. They were worried about that, about getting better, playing hard for their coach. I'm proud of that."
Silas' father died at 79 in December, only making the season more taxing for the younger Silas.
"Definitely a hard year. Death is hard when your person closest to you, the person who teaches you all about what you're doing on a daily basis, you lose him, it makes it difficult," Silas said. "What made it easier was a group of guys in that locker room who wouldn't quit, just tried hard and wanted to do the right things. And a staff full of people who I could share quiet moments with or lean on."
--Field Level Media