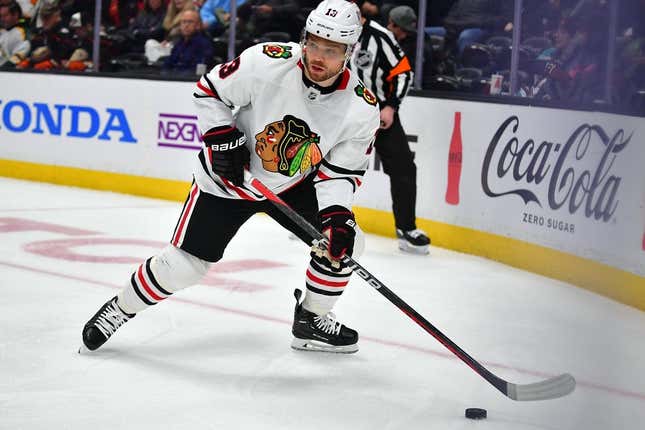 The Dallas Stars are finalizing a trade to acquire Chicago Blackhawks center Max Domi for a second-round draft pick and goaltender Anton Khudobin, Sportsnet and The Fourth Period reported Thursday.
The Stars would also acquire a minor-league goaltender from the Blackhawks in the agreement, according to Sportsnet.
News of the trade broke hours before the Stars were scheduled to play the Blackhawks in Chicago on Thursday night.
Domi, who turned 28 Thursday, is Chicago's leading scorer this season with 18 goals and 31 assists over 60 games.
It was his first season with the Blackhawks after bouncing around the Arizona Coyotes (2015-18), Montreal Canadiens (2018-20), Columbus Blue Jackets (2020-22) and Carolina Hurricanes (2022) over the first seven seasons of his NHL career. In 561 career games, Domi has recorded 363 points (119 goals, 244 assists).
Before dealing for Domi, the Stars came up short in their pursuit of Blackhawks star forward Patrick Kane, who was traded to the New York Rangers earlier this week.
Khudobin, 36, was 3-4-1 in nine games (seven starts) this season, his fourth with the Stars. He has a career-low .879 save percentage and a career-high 3.63 goals-against average.
In a 13-year NHL career that has seen him play for the Minnesota Wild (2009-11), Boston Bruins (2011-13, 2016-18), Hurricanes (2013-15), Anaheim Ducks (2015-16) and Stars, Khudobin has a 237-114-91 record, a .916 save percentage and 2.50 GAA.
--Field Level Media