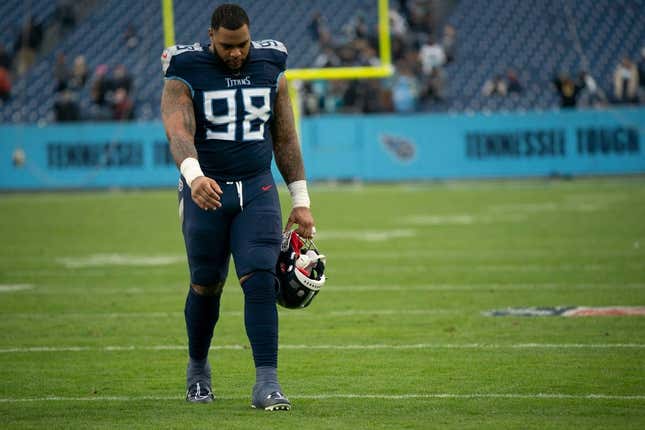 Tennessee Titans star defensive tackle Jeffery Simmons has agreed to a four-year, $94 million extension, according to multiple reports on Friday
Terry Crews' favorite NFL players
The deal begins with the 2024 season and will make Simmons the second-highest paid interior defensive lineman behind Aaron Donald of the Los Angeles Rams. Donald received a three-year, $95 million extension prior to the 2022 campaign.
Simmons' contract reportedly includes $66 million in guarantees as well as a $24 million signing bonus.
Simmons made two posts on Twitter as news of the deal emerged.
"Titans Nation, thank you for the last 4 years! I am so grateful for you guys...," Simmons said
He added: "We are not done yet. ... We have so much work to do!"
Simmons will earn $10.75 million in 2023 under the fifth-year option of his rookie contract.
Simmons, 25, had 7.5 sacks last season while earning his second straight Pro Bowl selection. He had a career-best 8.5 sacks in 2021.
In 56 career games (54 starts), Simmons has 189 tackles, 21 sacks, 28 tackles for loss, 19 passes defensed, three fumble recoveries and two forced fumbles.
Simmons was a first-round pick (19th overall) in 2019 out of Mississippi State.
—Field Level Media