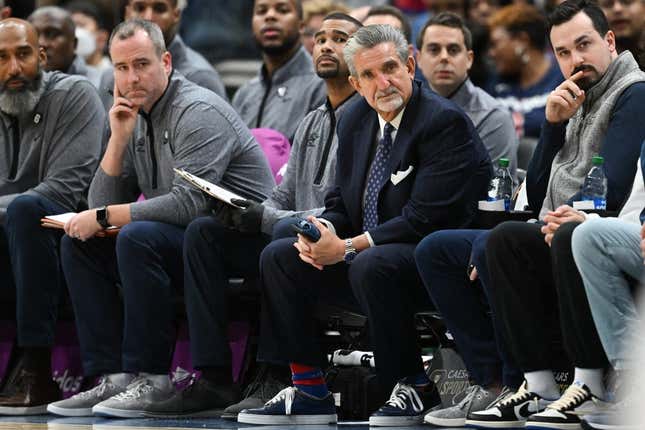 The Qatar Investment Authority will purchase a 5-percent stake in Monumental Sports & Entertainment, the holding company in Washington D.C. that owns the NBA's Wizards, NHL's Capitals and WNBA's Mystics, Sportico and WUSA 9 reported Thursday
Is Texas or Florida State a bigger national title contender? | Agree to Disagree
The minority sale would be a landmark as the first time a foreign sovereign fund has invested in major North American sports teams.
Owner and chairman Ted Leonsis founded Monumental in 2010. Leonsis is also rumored to be interested in purchasing the Washington Nationals of Major League Baseball if and when the franchise formally comes up for sale by the Lerner family, who reportedly paused the sale of the franchise through the 2023 season.
The reported deal for a stake in Monumental comes at a time when more Middle Eastern governments are showing interest in European and North American sports entities.
Saudi Arabia's Public Investment Fund (PIF) has bankrolled the LIV Golf League since late 2021 and earlier this month announced a surprise agreement with the PGA Tour and DP World Tour to combine forces for a new, for-profit entity that would oversee professional golf.
Soccer star Cristiano Ronaldo signed with a Saudi club funded by the PIF, while another made a play to give Lionel Messi a lavish contract before Messi chose Inter Miami of Major League Soccer. The PIF is also the majority owner of English Premier League club Newcastle United.
PIF's sports interests, in particular, have increased accusations of "sportswashing," the concept that athletics can be used to help improve tarnished or questionable worldwide reputations.
Qatar's head of state, Tamim bin Hamad Al Thani, is the owner of French soccer giant Paris Saint-Germain.
Qatar has shown an interest in Washington's sports scene in the past.
In 2018, when the Capitals had Stanley Cup Playoff games scheduled to end past operating hours for the Metro subway system, the Qatar Embassy paid $100,000 to sponsor an extra hour of Metro service for fans on at least one occasion.
In 2022, Monumental partnered with Qatar's embassy again, accepting a $25,000 donation on behalf of a local nonprofit aimed at increasing youth sports participation.
--Field Level Media