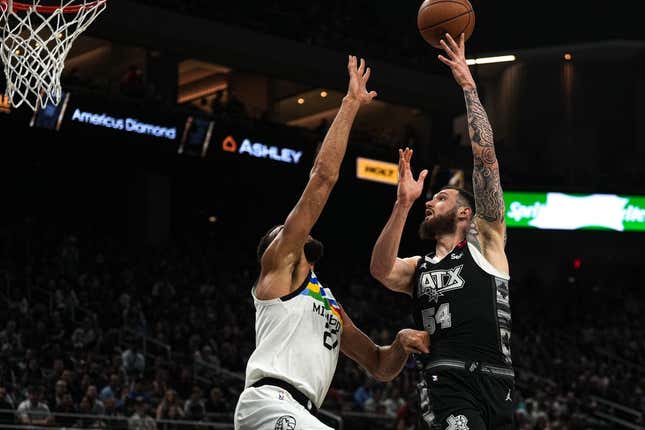 The Minnesota Timberwolves suspended center Rudy Gobert for one game and he will not participate in Tuesday night's play-in game against the Los Angeles Lakers, multiple outlets reported Monday
Chris Paul should ride the bench next season | Keep it a Buck(et)
Gobert will return to play another play-in game, if necessary, or in the playoffs should Minnesota advance, per ESPN. Gobert will not travel to Los Angeles, per the reports.
The suspension follows Sunday's ugly sideline altercation between Gobert and teammate Kyle Anderson. Gobert was sent home after punching Anderson in the chest during a second-quarter timeout.
According to ESPN, Anderson repeatedly called Gobert a b--- on a night when Gobert was playing hurt.
Immediately after the incident, teammates went to separate Gobert and Anderson, and a few went to check on Gobert after he left the court. Anderson then replaced Gobert in the lineup.
"It's certainly not something that we condone," Minnesota coach Chris Finch said. "Veterans can get upset, too. I don't want to be too hard on him, but obviously it's not something we're going to be able to tolerate here. I'm sure he's already remorseful. I haven't had a chance to speak with him about it."
Gobert, 30, issued an apology later Sunday night over Twitter.
"Emotions got the best of me today," he wrote. "I should not have reacted the way I did regardless of what was said. I wanna apologize to the fans, the organisation and particularly to Kyle, who is someone that I truly love and respect as a teammate."
Minnesota is the No. 8 seed in the Western Conference and will play the seventh-seeded Lakers.
The winner will play the No. 2 seed Memphis Grizzles in the first round, while the loser will play the winner of the Pelicans-Thunder play-in game. The winner of that matchup advances to face the top-seeded Denver Nuggets in the first round.
Gobert averaged 13.4 points, 11.6 rebounds and 1.4 blocks in 70 starts in the regular season.
The three-time NBA Defensive Player of the Year and three-time All-Star has career averages of 12.5 points, 11.6 boards and 2.1 blocks in 681 games (589 starts) with the Utah Jazz (2013-22) and Minnesota.
--Field Level Media