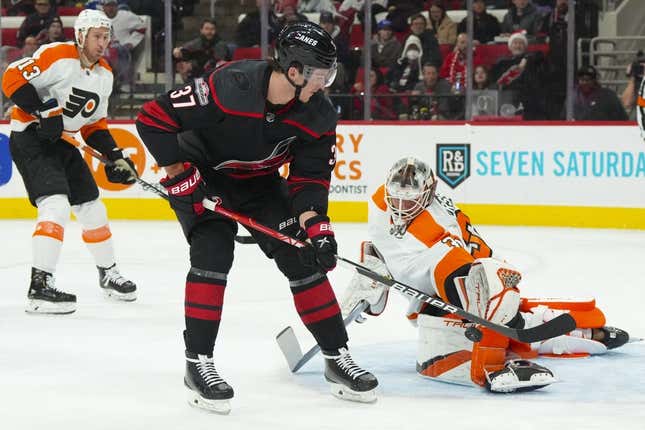 Even in some of the worst of times, the Carolina Hurricanes have proven to be pretty good.
Is Texas or Florida State a bigger national title contender? | Agree to Disagree
Not that they want a repeat of the type of game that was on display earlier this week, but the results have continued to work out.
They'll look to be more efficient when the Philadelphia Flyers visit for Thursday night's game in Raleigh, N.C.
The Hurricanes have won 15 of their last 18 games after Tuesday night's 4-3 shootout victory at Montreal.
"That was the first game, at least for two periods, where I could say, 'What are we doing?'" Carolina coach Rod Brind'Amour said. "That just hadn't happened. It's human nature, we're going to have some ups and downs."
The Hurricanes, who lead the Metropolitan Division, keep finding ways to get the job done even when they have glitches or stale stretches.
"We found our game," Hurricanes defenseman Brett Pesce said. "We don't like having to wait until the third to find it and to have to play the game right, but it is what it is. Sometimes it happens. It's a long season."
The Flyers lost 5-2 on Tuesday night at Tampa Bay, bringing some positives but more concerns.
"We had some good chances. We just can't freakin' score," Philadelphia coach John Tortorella said.
That outweighed any of the good segments that might have unfolded for the Flyers.
"I thought our 5-on-5 game for a lot of the game was good," Tortorella said. "Can't take six penalties."
There's feistiness among the Flyers, some stemming from Tortorella. He has mixed lines and benched players from regular shifts in an effort to get a response from the team. Travis Sanheim and Joel Farabee missed the second period Tuesday night based on coaching moves.
"Trying to see if they answer the proper way," Tortorella said.
Philadelphia defenseman Tony DeAngelo was suspended for two games by NHL Player Safety on Wednesday after he drew a penalty and game misconduct for a spearing incident in the Tampa Bay game. He played last season for the Hurricanes.
"I want him to have his personality, to have that competitiveness," Tortorella said. "I think he may have crossed the line. You have to be careful. That's part of who Tony is. I think he has done a pretty good job this year of staying on that line."
The Hurricanes might be making a goalie move after Antti Raanta exited the Montreal game after one period because of an injury. Frederik Andersen finished in the nets and this development could increase his workload. Brind'Amour said the initial evaluation of Raanta doesn't appear as if it's a serious injury.
Carolina also played the third period and overtime without defenseman Jalen Chatfield, who departed with an upper-body injury.
"Precautionary really on both guys," Brind'Amour said of the players who weren't around at the end.
The Hurricanes keep using various sources of production.
"It's not a one-man show," Brind'Amour said.
The Flyers have lost five of their last six road games.
The Hurricanes won the first two meetings this season, winning 4-3 in overtime on Oct. 29 and 6-5 on Dec. 23.
--Field Level Media