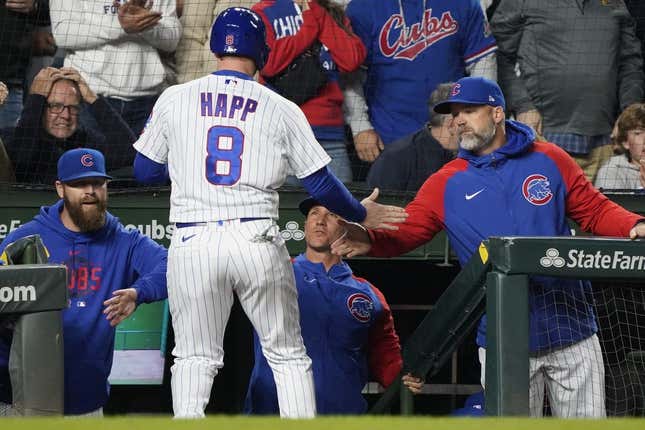 Although both sit below .500, the Chicago Cubs and St. Louis Cardinals head to England playing some of their best baseball
How running an NFL team is like running a restaurant | Chef Emeril Lagasse
The Cubs will try for a fourth straight victory when they face the Cardinals, winners in four of five, on Saturday, in the first of two games in the 2023 MLB London Series
This will be the second time Major League Baseball plays on a London stage. In 2019, the New York Yankees took both games against the rival Boston Red Sox during a set that featured a 50 combined runs and 65 hits.
"The way I look at is we get to go to a cool venue in London, and have fun and play a rivalry game," Cubs manager David Ross said
St. Louis has been designated as the home team for both games.
Chicago has won 10 of 12 to get within two games of .500. That includes a current 8-1 stretch, where the Cubs have outscored their opponents 64-25, have a .366 on-base percentage and 2.44 team ERA
"We're trying to play our best brand of baseball, and we're doing a little of that right now," Ross said.
Chicago's Nico Hoerner, who homered and had three RBIs in Wednesday's 8-3 win to complete a sweep of Pittsburgh, is batting .314 with 12 RBIs over the last 12. Teammate Mike Tauchman, who played in the '19 London Series with the Yankees, is hitting .325 with eight RBIs in his last 11 contests.
Scheduled Cubs starter Justin Steele (7-2, 2.71 ERA) has been one of the majors' biggest surprises in 2023
Steele allowed only a two-run homer through five innings during last Saturday's 3-2 win over Baltimore in his first start since missing nearly three weeks with a forearm strain. The left-hander lasted six innings, yielding seven hits and three walks, but three runs, during Chicago's 10-4 win over St. Louis on May 10.
Against Steele, Paul Goldschmidt and Nolan Arenado are a combined 7-for-18 (.389) for the Cardinals, who sit 13 games under .500 and last in the NL Central. However, St. Louis just won back-to-back road series against the New York Mets and Washingto
Wednesday's 3-0 loss to the Nationals snapped a four-game winning streak where the Cardinals scored 30 runs and clubbed 11 home runs
"I feel like there's a lot of things happening that are very positive, and pointing in the right direction -- as far as the style of play that we're used to seeing," St. Louis manager Oliver Marmol said.
Cardinals rookie Jordan Walker continues to stand out while batting .400 with four homers and eight RBIs during a 13-game hitting streak. Meanwhile, it's been an inconsistent start to ex-Cubs catcher's Willson Contreras' first season in St. Louis, but he's 6-for-20 with four RBIs in his last five games
Veteran Adam Wainwright (3-1 5.56) takes the ball for the Cardinals. He has allowed three runs in four straight starts, most recently over a season-high 6 1/3 innings of last Saturday's 5-3 victory over the Mets. The right-hander is 19-14 with a 3.84 ERA in 48 career starts against the Cubs
Chicago's Ian Happ has four hits in the last two games, and is batting .344 (11-for-32) with four homers versus Wainwright. However, Dansby Swanson is 0-for-11 against him, but is hitting .324 in his last nine games, and hopes to return after sitting out Wednesday because of taking a pitch to the arm.
--Field Level Media