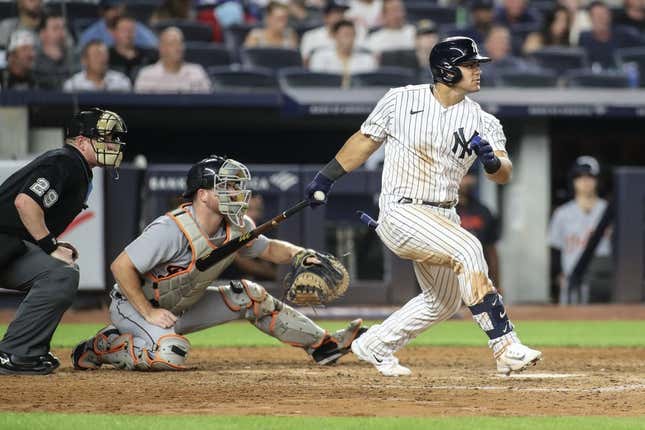 Fighting to stay at or above .500 is hardly something the New York Yankees anticipated they would be doing in early September.
How running an NFL team is like running a restaurant | Chef Emeril Lagasse
A nine-game skid last month gave them a losing record, but now the Yankees are showing some signs of improvement. They will attempt to go over .500 for the first time in over three weeks on Wednesday when they host the Detroit Tigers.
New York (69-69) was last over .500 when it was 60-59 following an 11-3 loss at Atlanta on Aug. 14 in the third game of the losing streak that put them out of contention. The Yankees are 7-1 since falling to 62-68.
Following up on an impressive three-game sweep in Houston, the Yankees won the opener against the Tigers 5-1 on Tuesday to put themselves in position for their first home series win since sweeping the Kansas City Royals from July 21-23. Giancarlo Stanton hit a tiebreaking two-run homer in the sixth, his 400th career round-tripper, and Gleyber Torres added a two-run double in the eighth.
New York won its fourth straight, prevailing in rookie Jasson Dominguez's home debut. After homering twice in his first three games, Dominguez went 1-for-4 with a double on Tuesday.
The Yankees will look to match their longest winning streak of the season, five straight from May 18-23. They enter Wednesday 7 1/2 games behind the Toronto Blue Jays, who hold the American League's last wild-card spot.
"We want to finish playing our best baseball of the season right now," New York manager Aaron Boone said. "Who knows, this game's filled with crazy stories and crazy finishes and we're going out there to beat you every day — and there's a lot of pride in that room to make sure we're putting our best foot forward to give ourselves a chance to win every day and that's how we're approaching this thing."
Detroit is 1-4 against the Yankees this year and 2-9 against New York over the past two seasons. On Tuesday, Javier Baez had three hits for the first time since July 18, but the Tigers only scored when Miguel Cabrera hit a tying single in the sixth inning.
The Tigers continued to struggle against AL East opposition. While they are 28-15 against their AL Central rivals, they are 6-24 against the AL East.
"We had guys on base with two outs and we didn't get the real big hit," Detroit manager A.J. Hinch said.
After New York's Gerrit Cole survived allowing eight hits in six innings of one-run ball on Tuesday, Clarke Schmidt (8-8, 4.56 ERA) will face the Tigers for the second straight outing on Wednesday.
Schmidt will attempt to halt a four-game winless skid. He won his sixth straight decision by beating the Chicago White Sox on Aug. 8, but since then, he is 0-2 with a 6.52 ERA, a mark inflated by allowing eight runs in 2 1/3 innings at Atlanta on Aug. 14.
Schmidt took a no-decision Thursday afternoon in Detroit when he allowed three runs on six hits in 4 2/3 innings. The right-hander is 1-0 with a 4.00 ERA in three career appearances (one start) against the Tigers.
After Detroit used six pitchers on Tuesday, Matt Manning (5-4, 3.62 ERA) starts for the Tigers on Wednesday.
The right-hander is 2-0 with an 0.38 ERA in his past four starts. Manning allowed two hits in six scoreless innings on Thursday in Detroit's 4-3, 10-inning win over the Yankees. It was his first career outing vs. New York.
—Field Level Media