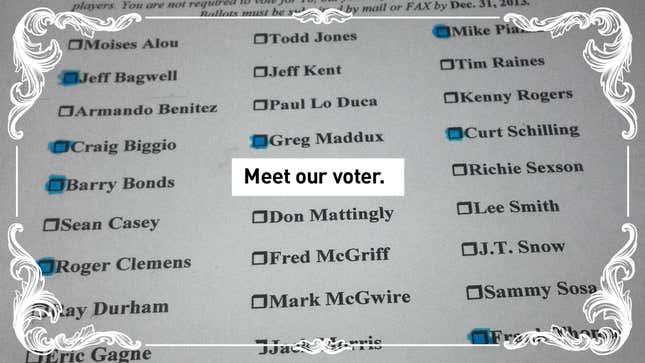 Now that the Baseball Writers' Association of America has announced the results of this year's Hall of Fame election—Greg Maddux, Tom Glavine, and Frank Thomas made it—it's time for us to reveal, as promised, the Deadspin ballot, as well as the voter who joined us in making a farce and mockery of the increasingly solemn election process by turning his vote over to you, the readers.
How running an NFL team is like running a restaurant | Chef Emeril Lagasse
To begin with, you voted for Greg Maddux, Frank Thomas, Tom Glavine, Mike Piazza, Craig Biggio, Edgar Martínez, Jeff Bagwell, Roger Clemens, Barry Bonds, and Curt Schilling. Well done, readers! Tim Raines, Mark McGwire, and Don Mattingly all came close, but couldn't quite crack the ballot; you can check the full results below.
As to the identity of our voter, a bit of context is probably necessary. When we first came up with the idea of buying a ballot from a veteran baseball writer and turning it over to the public, we had two principal aims.
The first was to draw attention to how ridiculous the Hall of Fame elections have become. With an electorate comprising a subset of a subset of a subset of the baseball press and a 75 percent threshold for entry into the Hall, the process has been hijacked by cranks, attention-seeking trolls, and the merely perplexed—people who exercise power out of proportion to their numbers due to the perverse structure of the voting. Further, the bad process has led to the process itself becoming the focal point of the process, at the expense of baseball. (Over the last month, you probably read a lot more columns in which anguished writers laid out their feelings about other anguished writers' feelings about drugs and/or the outdated voting process than you did appreciations of Hideo Nomo's fine and important career.)
The second was to turn a small bit of power over to the public for the sake of doing so. Much of the reason why the Hall of Fame process has become so contentious is that it's plainly absurd that veteran baseball writers get a say denied to everyone else from Bill James to small children. This isn't about whether the writers make good or bad choices, but about whether it's legitimate for them to lord over an institution that's supposed to be a repository of cultural memory.
At any rate, having announced our intentions, we heard from several voters, and worked out a deal to purchase a ballot from one of them. This voter agreed with our criticism of the process, and he/she was further motivated by a desire to raise funds for a worthy cause. Meanwhile, we put some work into arranging a bloc of voters who would all cast their ballots on behalf of Deadspin readers. That didn't happen, but we were able to secure a failsafe vote. This voter also agreed with our aims, but didn't want to jeopardize his franchise for the sake of a protest if we'd already secured a ballot; he was concerned, too, about being seen as a self-promoter or profiteer. He agreed, however, to turn over his vote to us if our initial purchase fell through.
Unfortunately, it did, through no fault of ours or the voter. (We'd like to be more specific about the reason for this, but don't want to expose the identity of the voter, as we intend to buy his or her vote in exchange for a substantial contribution to charity next year.) And, happily, our failsafe voter did come through, and we can now reveal his identity: It's Dan Le Batard, the respected ESPNer and longtime Miami Herald columnist. Why did he agree to take part in this farce? Here's Dan to explain:
I feel like my vote has gotten pretty worthless in the avalanche of sanctimony that has swallowed it.

I have no earthly idea if Jeff Bagwell or Frank Thomas did or didn't use steroids.

I think I understand why the steroid guys were the steroid guys in this competition-aholic culture.

I hate all the moralizing we do in sports in general, but I especially hate the hypocrisy in this: Many of the gatekeeper voters denying Barry Bonds Hall Of Fame entry would have they themselves taken a magical, healing, not-tested-for-in-their-workplace elixir if it made them better at their jobs, especially if lesser talents were getting the glory and money. Lord knows I'd take the elixir for our ESPN2 TV show if I could.

I don't think I'm any more qualified to determine who is Hall of Fame-worthy than a fan who cares about and really knows baseball. In fact, many people analyzing baseball with advanced metrics outside of mainstream media are doing a better job than mainstream media, and have taught us some things in recent years when we were behind. In other words, just because we went to journalism school and covered a few games, just because accepted outlets gave us their platform and power, I don't think we should have the pulpit to ourselves in 2014 that way we did in 1936.

Baseball is always reticent to change, but our flawed voting process needs remodeling in a new media world. Besides, every year the power is abused the way I'm going to be alleged to abuse it here. There's never been a unanimous first-ballot guy? Seriously? If Ruth and Mays and Schmidt aren't that, then what is? This year, someone is going to leave one of the five best pitchers ever off the ballot. Suck it, Greg Maddux.

I've become a more and more lenient voter over the years, often allowing the max 10 guys in a year, and I wanted to put in more this year. I happen to agree with most of the reader selections. I was afraid you guys were going to have me voting for Jacque Jones and no one else. I was kind of surprised this particular snark-land respected the process. I found it impossible to limit it this year to 10, but 10 was all that was allowed, so thanks for the help. But why limit it to 10 in a year that has more than 10 worthy candidates, by the way? How dumb is that?

And my final reason: I always like a little anarchy inside the cathedral we've made of sports.

I'm not sure what kind of trouble this is going to bring me. I imagine I'll probably have my vote stripped. But I don't want to be a part of the present climate without reform anyway. Given that climate, doing THIS has more impact than my next 20 years of votes as sanctimony bars the HOF door on the steroid guys. Because, in a climate without reform, my next 20 years of votes will be counted but not actually heard. At least this gets it heard, for better or for worse.
Thanks to Dan for this perfect explanation of the problems with the Hall of Fame, and for turning his vote over to Deadspin readers. [Update: Dan wants to make clear that he insisted on not getting anything for his vote.]
With that said, a few items of business remain. First, the full results of our balloting. We'll be analyzing them in more granular detail in a future post, but here's how you guys voted, with the percentages, which make a good comparison to the BBWAA results. (Remember that we asked you to vote yes or no on the Hall-worthiness of these players, with the understanding that we would then use the ballot to vote for players who secured a majority, and the 10 with the highest percentages if—as turned out to be the case—more than 10 cracked 50 percent.)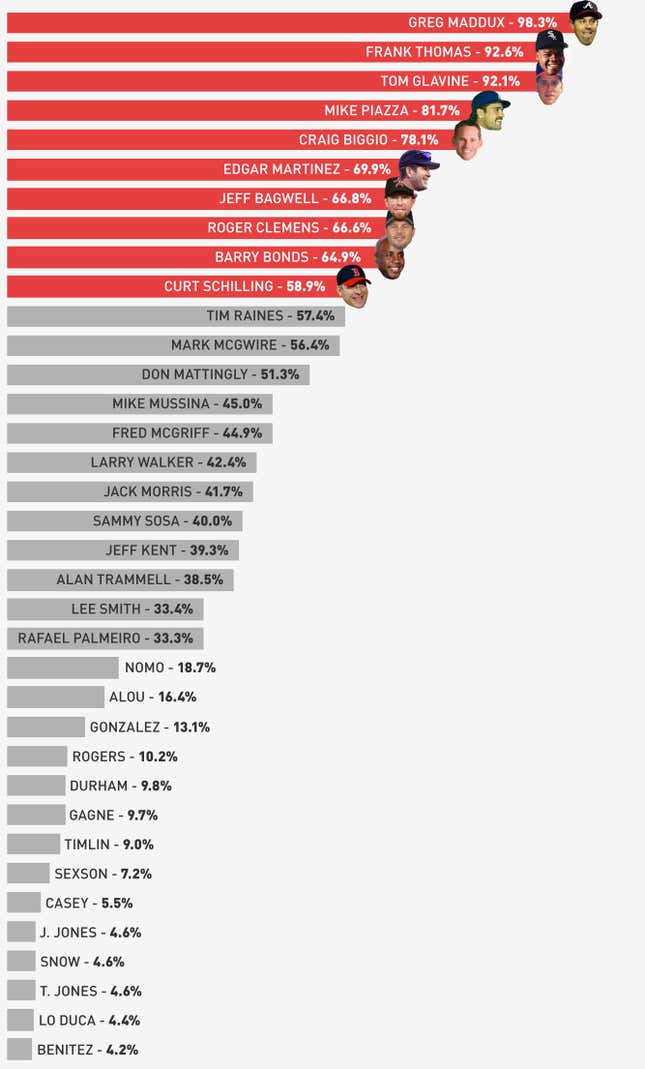 Second, while we weren't able to fulfill our ambition of publishing an article on every player on the ballot before our vote was due, we'll be continuing our Price of Fame series through the winter. We've already run lots of great posts from friends of the site like Rob Neyer, Ken Tremendous, and David Roth; thanks to all of them and the contributors we have lined up for future editions for their wonderful appreciations of players both famous and less than famous.
Finally, as a souvenir, here is your ballot, Deadspin readers: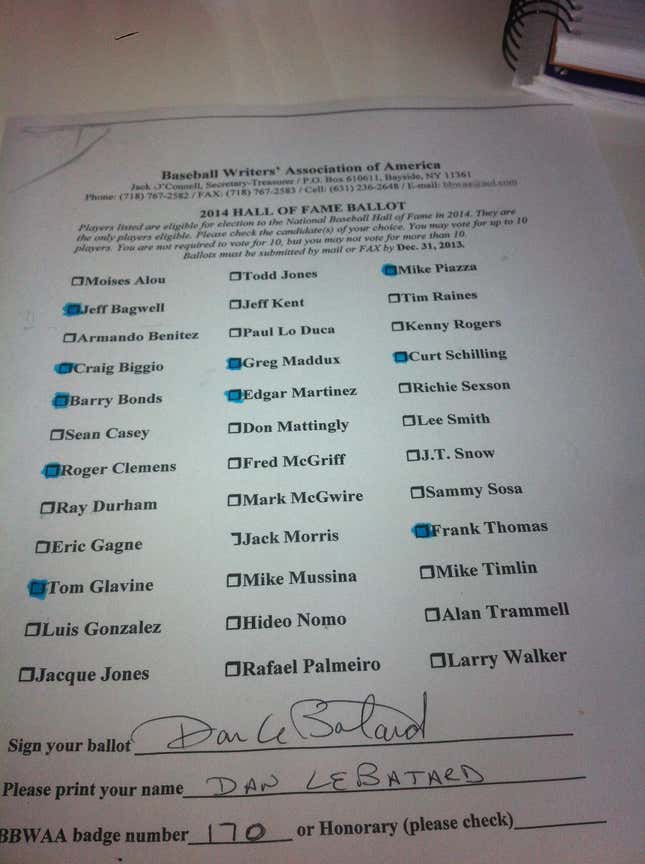 Art by Jim Cooke
Chart by Reuben Fischer-Baum