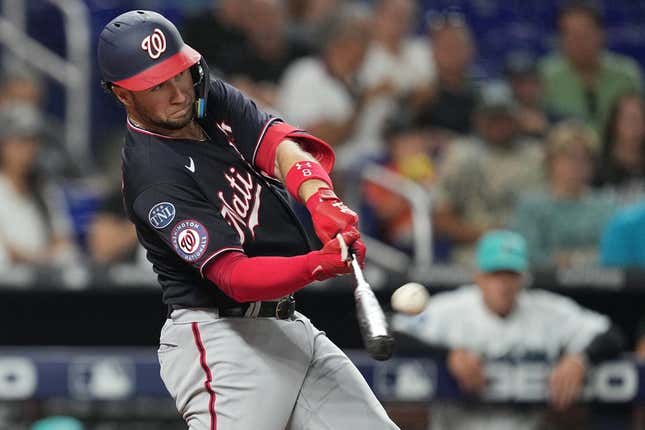 The revival of the Washington Nationals continues.
Washington, which was in last place in the National League East most of the season, is suddenly hot, going 15-7 in August.
How running an NFL team is like running a restaurant | Chef Emeril Lagasse
The Nationals beat the host Miami Marlins 7-4 in the opener of a three-game series on Friday. With a win either Saturday or Sunday, the Nationals would seal their fifth straight series win.
"They play hard," Marlins manager Skip Schumaker said of the Nationals, who have 10 wins in their past 13 games. "They play the game the right way. They have a good manager (Dave Martinez), and their (young players) are becoming very good major-leaguers."
The Marlins, who are 2-7 in their past nine games, will try to turn things around on Saturday afternoon when they start Eury Perez (5-4, 2.91 ERA) in a battle of rookie right-handers. Washington will start Jake Irvin (3-5, 4.47).
Miami is 6-8 when starting Perez, who was at his best in his most recent start, pitching six scoreless innings against the Los Angeles Dodgers on Aug. 19. He struck out a career-high 10, walked none and allowed just two hits en route his fifth quality start of the season.
However, he didn't get much run support, and the Dodgers rallied for three runs in the eighth inning to earn a 3-1 win.
Perez has faced the Nationals just once, beating them 5-3 on May 18. He allowed just one run on three hits in five innings, with one walk and six strikeouts.
Washington is 9-10 when starting Irvin, who has made two back-to-back quality starts, allowing just two runs in his past 12 2/3 innings. For the season, he has made six quality starts.
Irvin has faced Miami just once, taking a no-decision on June 17 in a 5-2 Marlins victory. In that game, Irvin gave up one run on four hits and two walks in five innings. He fanned four.
Irvin will attempt to emulate the outing produced by Washington's Joan Adon on Friday. Adon fired six scoreless innings, holding the Marlins without a hit for the first 5 2/3. He gave up two hits total.
Schumaker lamented postgame, "We haven't done a good job lately of getting to the starting pitcher. We have to figure out how to attack starters. It's not for a lack of trying or urgency or game-planning. We just have to execute. That's the mission."
The Nationals, though, have had no such problems lately. On Friday, they jumped on top in the first inning, and they wound up getting a two-run homer from Carter Kieboom in the sixth and three RBIs from Joey Meneses.
Kieboom, a Nationals first-round pick in 2016, was called up from the minor leagues this week for his first major league duty since 2021. He missed last season following Tommy John surgery.
In three games since his promotion, he has two home runs.
Things are going so well for the Nationals that they don't seem to miss the play of Stone Garrett, the Marlins' eighth-round pick in 2014.
Garrett broke his left leg on Wednesday while trying to catch a ball at the right-field wall.
"When he went down, my heart dropped," Martinez said of Garrett, who hit .378 in his last 11 games before landing on the injured list. "We wish him a fast recovery."
Martinez, meanwhile, is pleased with his 1-2 catcher combo of Keibert Ruiz and Riley Adams. On Friday, Adams caught while Ruiz served as the designated hitter, and they went a combined 3-for-9.
"Catcher is a tough position to play six or seven times a week," Martinez said. "Being able to have two young guys to do the job allows us to keep them both fresh."
—Field Level Media