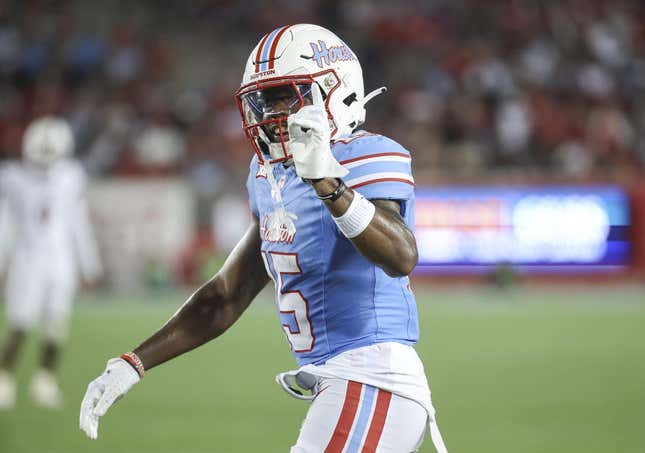 Daelen Alexander had both touchdowns in overtime, including the deciding 1-yard run and 2-point conversion, as Rice upset crosstown rival Houston 43-41 on Saturday at Rice Stadium to capture the Bayou Bucket for the first time since 2010.
How running an NFL team is like running a restaurant | Chef Emeril Lagasse
Donovan Smith hit Matthew Golden with a 2-yard touchdown pass in the Cougars' possession in the first overtime. Rice responded with a 3-yard run by Alexander to send the game to a second extra period.
Alexander then ran for a 1-yard touchdown and added the winning 2-point conversion to force Houston to match Rice's production. Smith scored on a 2-yard run but couldn't connect with Golden on the conversion pass.
JT Daniels passed for 401 yards and three TDs for the Owls (1-1). Smith countered with 260 yards and two scores passing and three TDs on the ground.
The first half belonged to the Owls, who scored the game's first 28 points and led 28-7 at the half.
But Houston responded, racking up three touchdowns over the final 14-plus minutes and tying the game on a 1-yard plunge by Smith with 15 seconds to play in regulation.
The Owls opened the game with a bang, scoring on Daniels' 10-yard scoring pass to Luke McCaffrey at the 10:11 mark of the first quarter.
Rice then took advantage of an interception of Smith at the UH 39 to push its lead to 14-0 when Alexander crashed in from the 1 on fourth down with 4:15 to play in the first period.
Rice's rousing start continued with a 32-yard Daniels-to-McCaffrey TD pass with 3 minutes to play in the opening quarter that staked its advantage to 21-0.
The Owls added to their lead on Daniels' third TD pass of the first half, this one from 15 yards to Braylen Walker at the 8:32 mark of the second at the end of a 92-yard, 11-play march.
The Cougars finally found the end zone on a 10-yard pass from Smith to Golden with 2:42 to play until halftime.
Houston cut its deficit to 28-14 on Smith's 1-yard run early in the fourth quarter. Stacy Sneed scored on a 14-yard run with 3:46 to play before Smith completed the stirring comeback with his second 1-yard TD run with 15 seconds remaining.
Houston was a 7.5-point favorite.
—Field Level Media