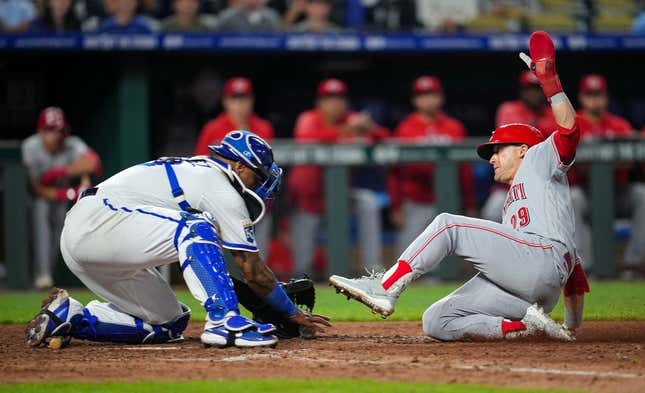 The Cincinnati Reds keep finding ways to win, even if it comes with a little drama along the way
How running an NFL team is like running a restaurant | Chef Emeril Lagasse
The Reds aim for their fourth straight victory on Tuesday when they continue their three-game series against the host Kansas City Royals
Cincinnati has gone 25-20 since opening the season with a 7-15 mark, while Kansas City has been outscored 46-18 during its seven-game losing streak.
The Reds recorded their National League-high 21st comeback victory on Monday, prevailing 5-4 in 10 innings. Cincinnati rallied from an early 3-0 deficit and led 4-3 before Kansas City's Salvador Perez hit a two-out solo homer in the bottom of the ninth
Cincinnati used five relievers but stayed away from closer Alexis Diaz, who was unavailable after pitching the previous two days. After the Reds pushed a run across in the top of the 10th, Ricky Karcher recorded the final three outs for the save in his major league debut
"That was a grind-out win, and that's kind of what this team is about," Cincinnati outfielder TJ Friedl said. "Grinding out games to the very last out. They came back in the bottom of the ninth, and then we come back in the top of the 10th. This is kind of our MO; it's what we do. It's awesome."
Stuart Fairchild homered and Jonathan India had two hits and two RBIs for the Reds, who won for the sixth time in their past eight games
"Even though it was a little bit more difficult than you would ever want, it felt like it was meant to finish that way," Cincinnati manager David Bell said. "So many guys made plays. ... It's just a great team win."
While Cincinnati is trending upward, Kansas City is looking for answers after going 1-for-14 with runners in scoring position on Monday.
"I don't think there's one reason we didn't drive guys in, but the end result is we didn't," Royals manager Matt Quatraro said. "The combination of it has been frustrating to not be able to open a game up.
Tuesday's pitching matchup features a pair of starters seeking their first victory of the season.
Cincinnati left-hander Brandon Williamson (0-0, 5.40 ERA) is set to make his sixth career start.
He gave up six runs in the first three innings against the Los Angeles Dodgers on Wednesday. Williamson, 25, settled down enough to go 5 2/3 innings before retiring 10 of the last 11 batters faced. Cincinnati went on to win the game 8-6 on a ninth-inning, walk-off homer from Will Benson.
Kansas City right-hander Jordan Lyles (0-10, 6.84 ERA) will be making his 14th start of the season. He yielded five runs over seven-plus innings in a 6-1 loss to the Miami Marlins on Wednesday.
"He's had several starts like that this year where he's gone real deep in the games," Quatraro said, "and that's something he's always done. He's durable and bounces back well."
Lyles, 32, is 0-5 with a 5.23 ERA at home, where he has allowed 11 of his 18 homers. He owns a 5-2 mark and a 4.24 ERA in 17 career games (10 starts) against Cincinnati.
One bright spot for the Royals has been the performance of reliever Taylor Clarke, who has recorded a career-high 16 scoreless innings over his past 15 appearances. Opponents are batting .200 (11-for-55) with four extra-base hits during that stretch
--Field Level Media