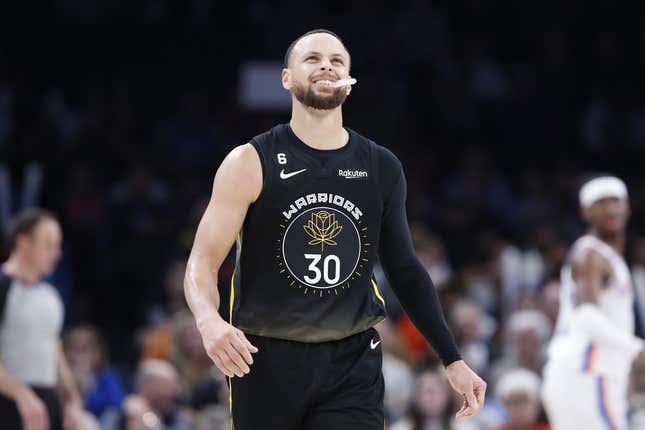 Two teams slipping in the Western Conference standings and clueless as to when reinforcements might be arriving duel Thursday night when the Golden State Warriors and host Memphis Grizzlies renew their spirited rivalry in a nationally televised affair.
Is Texas or Florida State a bigger national title contender? | Agree to Disagree
The Warriors have lost seven in a row on the road, including four straight since Andrew Wiggins left the team for personal reasons on Feb. 14.
Several members of the Golden State organization -- from players to coach Steve Kerr to general manager Bob Myers -- have acknowledged talking to Wiggins during his absence, and all have told him the same thing: Take care of your business.
"Wigs is my brother," Warriors guard Jordan Poole said this week. "We are giving him strength and all the support he needs. Whenever he is ready to come back, whenever he is ready to rejoin the team, he will.
"Our staff and organization is doing an amazing job of allowing him to spend this time with his family. I think he knows we all have his back and he can take as much time as he needs."
The Warriors were hoping Stephen Curry's return from an 11-game absence due to a lower leg injury would help them end their road woes. But Curry's 27 and 40 points, respectively, haven't been enough in losses to the Los Angeles Lakers on Sunday and Oklahoma City Thunder on Tuesday.
In a matchup of teams that met in the Western Conference semifinals last year, Golden State has used its home-court advantage to win the first two meetings this regular season.
The emotional contests have seen Poole get a two-technical ejection in a 123-109 win on Christmas Day, and Curry get the heave-ho for throwing his mouthpiece into the stands late in a 122-120 triumph a month later.
The clubs will meet for a fourth and final time on March 18, also at Memphis.
The Grizzlies hope to have Ja Morant back by then, but no timeline has been given on his leave of absence following a gun incident made public on the internet.
Morant has sat out Memphis' last two games in Los Angeles, which they lost to the Clippers on Sunday and the Lakers on Tuesday. On Wednesday, the Grizzlies announced Morant will miss the next four games, making his earliest return March 17 at the San Antonio Spurs.
Grizzlies coach Taylor Jenkins hopes Morant can get the same level of respect from the public that Wiggins has gotten from his teammates.
"It's a healing process," he insisted. "If everyone expects something to change overnight, we've got to be due diligence and respectful on that. We're talking about Ja being in a better place personally and also professionally. To put a timetable on it I think is disrespectful."
As he did when Morant injured his knee and had to miss the final three games of the Grizzlies' 4-2 playoff loss to Golden State last season, Tyus Jones has stepped into the starting lineup at point guard and performed admirably.
He had 25 points, 12 assists and five steals in the loss to the Clippers, then 16 points in the loss to the Lakers.
Jones made three starts in the playoff series against the Warriors last season, recording 19 and 21 points in Games 4 and 5, respectively, then seven points, nine rebounds and eight assists when the Grizzlies were eliminated at Golden State in Game 6.
--Field Level Media