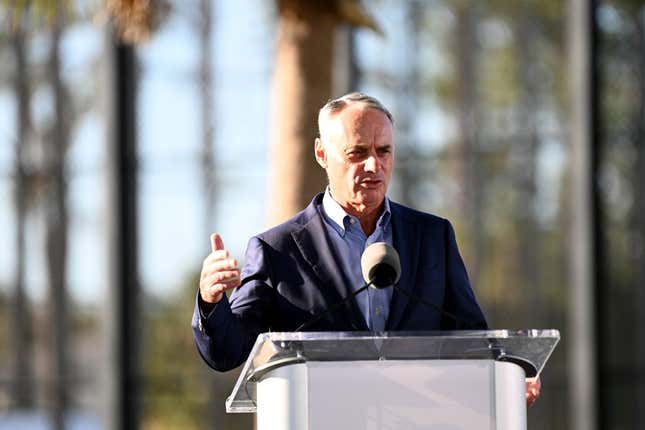 Major League Baseball commissioner Rob Manfred said Monday that moving the A's out of Oakland is imperative to be competitive and rebuffed claims that the team negotiated in bad faith.
Bass' ERA stinks, but not compared to who he is off the mound | Worst of the Week Countdown
Manfred made the comments during a convention of sports editors in New York.
The Athletics agreed to buy a 49-acre site just off the Las Vegas Strip and hope to relocate to Nevada by the 2027 season
The club plans to build a new ballpark on the site at Dean Martin Drive and Tropicana Avenue, just west of the New York-New York and Excalibur casinos. The A's' lease at Oakland Coliseum ends after the 2024 season.
"To me, it ought to be all positive on the competitive front," Manfred said Monday. "You got really smart baseball operations people. You got owners that want to win, and I think Las Vegas will present a real revenue-enhancing opportunity. So I think you're going to have a good product."
Manfred said he's "sorry for the fans in Oakland," but said A's owner John Fisher shouldn't be made a scapegoat after seven years of negotiating with the city.
"But for the city of Oakland to point fingers at John Fisher, it's not fair," Manfred said. "We have shown an unbelievable commitment to the fans in Oakland by exhausting every possible opportunity to try to get something done in Oakland."
The team plans to build a $1.5 billion, 35,000-seat venue with a partially retractable roof.
The A's rank last in average attendance among major league teams this year, drawing around 11,000 fans per game. Oakland also has the worst record in the majors at 4-18, and the team's Opening Day payroll of $56,895,000 was the lowest in the majors, according to USA Today.
--Field Level Media