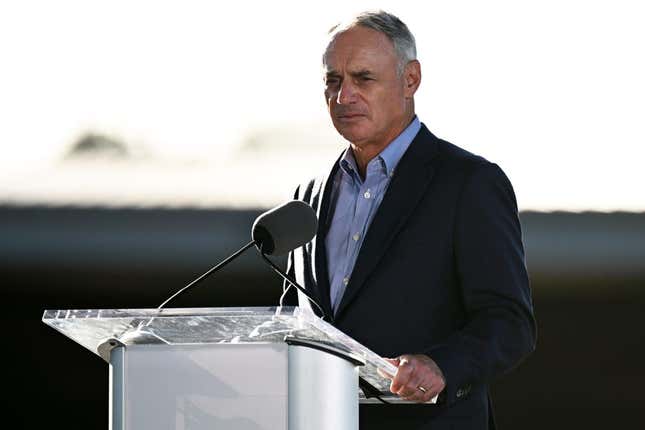 The Major League Baseball Players Association is asking the league to make tweaks to the new pitch clock rule before the playoffs arrive.
Is Texas or Florida State a bigger national title contender? | Agree to Disagree
Commissioner Rob Manfred indicated that he wants the rule to stay the same for the remainder of the regular season and the playoffs, but minor changes may be under discussion, with MLBPA executive director Tony Clark saying Tuesday that "the lines of communication are open" with Manfred's office.
"In general, I think you ought to play the postseason the way you play the regular season," Manfred told reporters ahead of the MLB All-Star Game in Seattle. "We are comfortable the way the clock and the violations -- particularly late in the game, in high-leverage situations -- have been managed."
Under the current rules, which were introduced this season, pitchers have 15 seconds to throw a pitch when the bases are empty and 20 seconds when there is at least one runner on base. Hitters must be in the batter's box and ready for a pitch with at least eight seconds left on the clock. Pitchers receive an automatic ball if they violate their end of the bargain, and hitters take an automatic strike if they violate the rule.
Clark said the players' union is not looking to do away with the rule, which has shortened the average length of games, but that a few more seconds would be appreciated.
Adjustments like lengthening the timer by a few seconds or giving players extra timeouts "will afford them and those watching a chance to take a few extra seconds here and there and a deep breath," Clark said.
Manfred, for his part, understands it wouldn't be popular if a pitch clock violation helped determine the outcome of a playoff game.
"We don't want a postseason game decided on a violation," Manfred said. "We haven't had a game decided that way (so far). I understand it's a possibility."
Also Tuesday, Manfred said there are no plans to implement an automated strike zone for the 2024 season. In June 2022, Manfred told ESPN that the so-called robot umpire "will likely be introduced" by 2024.
Manfred did have high praise Tuesday for the Automated Ball-Strike System that is being tested at the Triple-A level this season. It was also used in the All-Star Futures Game on Saturday as a arbiter for challenges.
"Pleased that it's gone well in the minor leagues," Manfred said. "We had a lot of change this year. The joint committee is going to have to get to some sort of consensus on whether and when."
In another rules department, Manfred said MLB is continuing to work with Dow Chemical on creating a "tacky ball" that would eliminate pitchers' need to use sticky substances for their grip. He described the concept as a "pure white baseball" and a "pearl" while admitting it would stir up a new round of controversy.
"It would literally eliminate all -- well, not all -- but many of the variables in the current process," Manfred said. "It would come out of a sealed foil pouch at the ballpark. No individual mudding."
--Field Level Media