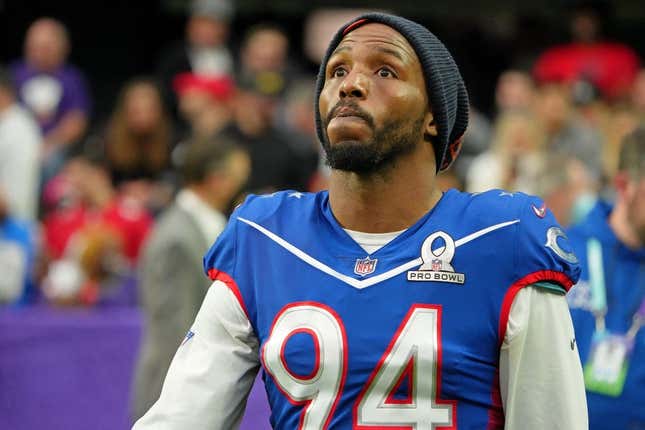 Former Pro Bowl defensive end Robert Quinn was arrested in South Carolina on Friday on hit-and-run and assault charges.
How running an NFL team is like running a restaurant | Chef Emeril Lagasse
Quinn, currently a free agent, is accused of hitting four vehicles with his pickup truck and slapping a woman across the face, as first reported by TMZ Sports.
The alleged incident happened Tuesday in Summerville, S.C. Quinn turned himself in on Friday and was granted bond for a total of seven charges.
Quinn faces one charge of hit-and-run of an attended vehicle, one charge of third-degree assault and battery, four charges of hit-and-run property damage and one charge of striking a highway fixture.
Police incident reports said that Quinn hit a vehicle parked in a driveway that a woman was sitting inside. She approached Quinn, to which Quinn allegedly said he would buy her a beer, then took her by the shoulders, said "Listen to me" and struck her across the face open-handed.
The woman, Lisa Ball, spoke to local news outlet Live 5 News WCSC.
"He was very belligerent," Ball said. "He kept saying, 'Oh, don't worry about it, I'll buy you new cars, I'll buy you new car, let's go to the dealership.' I told him to get off my property and he proceeded to put his hands on me and slap me not once, but twice."
Quinn began last season with the Chicago Bears before being traded to the Philadelphia Eagles on Oct. 26 for a fourth-round draft pick. Quinn played seven regular-season games for Chicago and six for Philadelphia, and he saw sparse playing time on the Eagles' playoff run that culminated in a Super Bowl loss to Kansas City.
Quinn, 33, became a free agent after last season because he and the Eagles mutually agreed to void the final two years of his prior contract.
A first-round draft pick by the then-St. Louis Rams in 2011, Quinn has spent 12 seasons in the NFL and made the Pro Bowl in 2013, 2014 and 2021. He racked up 18.5 sacks for the Bears in 2021, a half-sack off his career high in 2013.
—Field Level Media