With the end of AMC's Mad Men in sight, there have been any number of reflective essays on the show, with existential topics ranging from "What Does It All Mean?" to "Is That All There Is?" Of particular interest to obsessive music fans is Chris Molanphy's deep dive into the soundtrack for NPR; he explains that "the music that Weiner has employed over seven seasons … has been every bit as integral to the show's thesis about 1960s America as its actors, costumes and production design," noting the exclusion of '60s gimmes to instead highlight the true listening fare of the day, from British clarinetist Acker Bilk to Japanese crooner Kyo Sakamoto's "Sukiyaki." Fans are usually quick to point out anachronisms, like that "Sukiyaki" topped the U.S. charts in 1963, while its placement in the show's season-two premiere was set in the spring of 1962. When Diana Ross's "Love Hangover" was used in the teaser for these final seven episodes, it suggested that the series had leapt forward to 1976, when in fact the premiere only barely turned the calendar to the "Me Decade."
Sunday night, as the final shot of "The Forecast" showed Don Draper about to close a deal on his gutted Upper East Side penthouse and facing an uncertain future, strains of Roberta Flack's graceful "The First Time Ever I Saw Your Face" led into the end credits. On the surface, the track fits the time, as her debut album, First Take —which featured "First Time" on side B— had been released in June of 1969, and perfectly matches Mad Men's current 1970 setting. In actuality, it took another three albums and four years before she truly entered into the public consciousness.

By now Roberta Flack is soul, R&B, and adult-contemporary royalty; hits like "Where is the Love," "Killing Me Softly," "Feel Like Making Love," and "Tonight, I Celebrate My Love" are luminous bodies in the lite-FM firmament. And while the Ewen MacColl-penned "The First Time Ever I Saw Your Face" was a folk standard in the 1950s and '60s (for everyone from the Kingston Trio to Peter, Paul and Mary), Flack's slow-burning version irrevocably changed the song in both genre and tempo. In the process, it launched hundreds of other covers in her image over the subsequent decades, by artists ranging from Johnny Cash to Johnny Mathis, Celine Dion to the Flaming Lips (with Amanda Palmer) to Ol' Dirty Bastard himself. But her own version almost never even reached the pop stratosphere.
Flack was initially discovered by soul-jazz pianist Les McCann in a Washington nightclub in the late '60s; as he wrote in the First Take liner notes, describing the first time ever he heard Flack's voice, "Her voice touched, tapped, trapped, and kicked every emotion I've ever known. I laughed, cried, and screamed for more ... she alone had the voice." But her record label, Atlantic, was not quite sure what to do with it. In turn, though it only took Flack all of 10 hours to lay her first album to tape, it was years before the album finally reached her audience. Unfortunately, Atlantic decided against using "First Time" as its first single, and instead chose her cover of Leonard Cohen's "Hey That's No Way to Say Goodbye," which failed to chart. First Take failed to garner much in the way of reviews of sales or singles, and her follow-ups, 1970's Chapter Two and 1971's Quiet Fire, met a similar fate. The only cover of hers to gain much traction on the charts at that point in her career was her version of "Will You Still Love Me Tomorrow," which climbed as high as No. 76 on the Billboard Hot 100.
Enter Dave Garver, a disk jockey for Carmel-by-the-Sea's KRML AM radio station. Or rather, the actor who played him in the 1971 psychological thriller Play Misty for Me. Having gained international renown for playing a character best known as "The Man with No Name" in Sergio Leone's spaghetti Western trilogy, Clint Eastwood was at the peak of his powers when he began directing the film, his first full-length feature. The movie title itself name-checks Errol Garner's 1961 bop ballad of that name, which happens to be the song most often requested by the movie's main character, a groupie and psychotic murderer played by future Bluth materfamilias Jessica Walter.
G/O Media may get a commission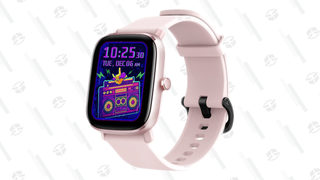 20% Off
Amazfit GTS 2 Mini Smart Watch
Get fit
Has built-in Alexa so you can ask questions and carry your smart assistant around with you; it has a battery that can last up to 14 days, has over 70 different sport modes, is 5ATM waterproof, and tracks stats like your heart rate, calories burned, sleep, and more.
But the most notable song in the film comes midway through. As Eastwood's character takes his not-batshit-crazy girlfriend (played by Donna Mills) on a date, Roberta Flack's deep cut soundtracks the Vaseline-lensed montage sequence, seemingly right out of a Massengill commercial. Eastwood, a lifelong jazz head, was already a fan of Flack's and paid $2,000 for the rights to include Flack's forgotten 1969 ballad in the film. And thanks to Eastwood having a box office hit on his hands, grossing $10.6 million, Flack's torch song caught fire with the record-buying public. Slimming down the original's run time to about four minutes, Atlantic retroactively released "First Time" as a single.
This time around, Flack topped both the Billboard Hot 100 and Easy Listening charts for six weeks, ultimately becoming Record of the Year for 1972. Her debut album followed in kind, finally topping the charts some four years after its initial release. Platinum records, stardom, and a permanent place in your dentist's waiting room followed all thanks to "First Time" getting a second chance. There may be hope for Don Draper yet.
---
Andy Beta writes at Pitchfork, NPR, and The Wall Street Journal, and tweets as @betaworldpeace.

Photo by AP.
The Concourse is Deadspin's home for culture/food/whatever coverage. Follow us on Twitter@DSconcourse.