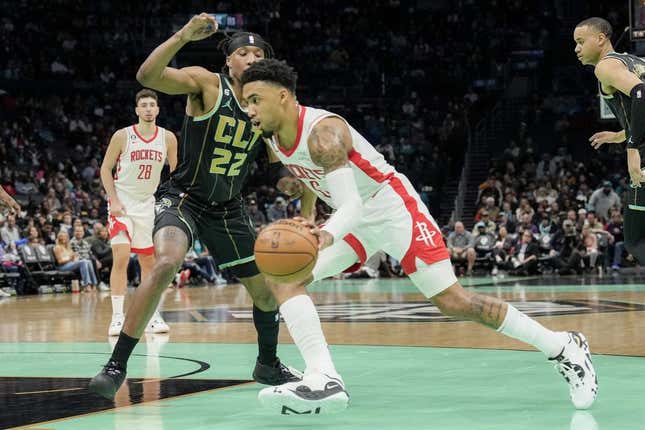 Kevin Porter Jr. and Jalen Green scored 26 points apiece and the visiting Houston Rockets held off the Charlotte Hornets for a 112-109 victory Friday night in a matchup of two teams near the bottom of the NBA standings
Aaron Rodgers should go full Joe Namath | Comedian Bert Kreischer
Kenyon Martin Jr. and Alperen Sengun both posted 14 points and Jabari Smith Jr. had 13 points for Houston (21-60), which broke a six-game road losing streak and won for only the seventh time this season on the road. Sengun grabbed 21 rebounds.
It was the home finale for the Hornets (26-55), who finished 13-28 in their home arena
Charlotte was within three points after two Svi Mykhailiuk free throws at the 41-second mark. The Rockets followed with Green's missed shot before Mykhailiuk missed a 3. Martin was off on two free-throw attempts with 8.1 seconds to play before Mykhailiuk's last-possession 3 missed, so that allowed Houston to split the season series
Mykhailiuk finished with 25 points, Theo Maledon notched 22 points, Bryce McGowens had 16 points, Mark Williams provided 12 points and 13 rebounds, and JT Thor and reserve Kai Jones added 10 points apiece.
The injury-ravaged Hornets again used a roster of young players, several who spent considerable time in the G League this season. Turnovers remained a recent problem as Charlotte committed 17, though that was one fewer than the Rockets
Houston led 85-73 through three quarters, but Charlotte made a serious push.
The Hornets scored 14 points in just 3:01 to begin the fourth quarter. They had six 3-point baskets in the opening four minutes of the quarter after hitting a total of five 3s across the first three quarters
That helped Charlotte pull with 101-97. Maledon's basket tightened the score to 102-99, but the Hornets didn't hit another field goal until Maledon and Thor each drained a 3-pointer with less than two minutes left
Houston was up 55-49 at the break after trailing by nine points in the first half.
--Field Level Media