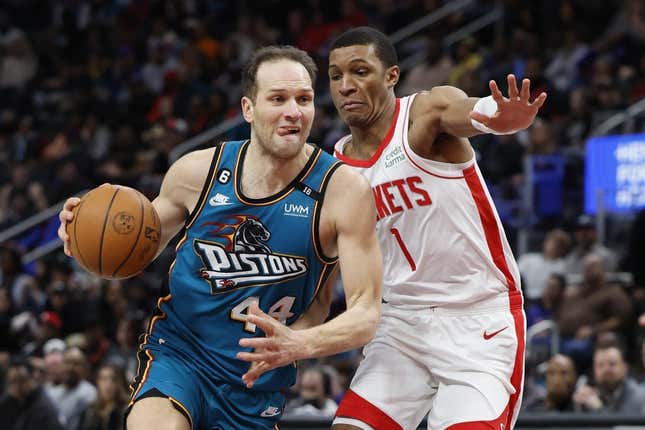 In the last game of their final extended road trip of a long season, the Houston Rockets labored hard to make the most of the opportunity at hand
Are the Oakland A's a failed state? | Agree to Disagree
But then the fourth quarter commenced and the Rockets continued a trend that has come to define their youthful roster. Houston surrendered 37 points in the final period of their 123-114 loss to the Brooklyn Nets on Wednesday, a defeat that completed a winless five-game road trip and sent the Rockets to their seventh consecutive loss
The Rockets (18-59) will close the regular season with a pair of road games in Charlotte and Washington following a three-game homestand that starts Friday against the Detroit Pistons
The stakes are low for Houston and the Pistons (16-60) who, along with the San Antonio Spurs, have clinched the three worst records in the league and therefore have the same 14 percent odds of landing the top picks in the NBA Draft, a selection presumably designated for French big man Victor Wembanyama
The Rockets owned the worst record in the league in each of the previous two seasons yet finished second and third, respectively, in the draft lottery and used those picks to select Jalen Green and Jabari Smith Jr. in succession. Their young core has struggled to secure wins this season but has displayed signs of cohesion, particularly down the stretch
All five starters -- none older than 22 -- scored in double figures against the Nets, paced by Kevin Porter Jr. with 31 points, nine rebounds, six assists and three steals in the loss. The Rockets have routinely shown admirable moxie despite their collective inexperience, and their effort at Brooklyn proved they haven't let go of the rope despite the season drawing to an end
"It's very important," Porter said of continuing to play hard. "At the end of the day, we want to end the season on the right note and with some momentum going into the offseason. We've got five (games) to lace them up and take advantage of what we do, and that's playing basketball."
Injuries, most notably to second-year guard Cade Cunningham, undermined any chance the Pistons had at avoiding the bottom of the league standings. Factor in the deadline trade of forward Saddiq Bey to the Atlanta Hawks, and the Pistons leaned even more heavily into an ongoing rebuild with a number of younger players who don't necessarily fit as puzzle pieces
The stretch run has been a grizzly one for Detroit, which has lost 16 of 17 games since the All-Star break. The Pistons were missing six rotation players against the Oklahoma City Thunder on Wednesday yet hung tough until their failure to corral a defensive rebound just prior to the buzzer yielded a 107-106 loss
Considering their roster shortcomings and injury attrition, it was a Herculean effort. The result still proved painful.
"This is one of the hardest-playing teams in the league and I thought that we matched it step for step," Pistons coach Dwane Casey said. "But with that, there's got to be concentration, focus, and taking care of the ball and not having 30 points off turnovers.
--Field Level Media