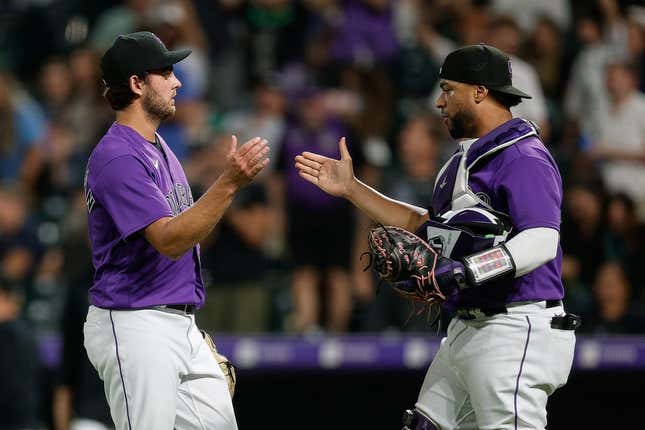 The Colorado Rockies would like to avoid losing 100 games for the first time in franchise history.
How running an NFL team is like running a restaurant | Chef Emeril Lagasse
Colorado took a positive step toward that goal with a convincing 14-1 win over the lowly Chicago White Sox on Friday night in Denver. The Rockies will go for two wins in a row Saturday night in the second contest of the three-game series.
Chicago will send rookie right-hander Jesse Scholtens (1-5, 3.20 ERA) to the mound against left-hander Kyle Freeland (4-13, 4.94).
The Rockies face a tough schedule in the final six weeks of the season, so getting wins wherever they can is important. They have to finish no worse than 16-24 in their final 40 games to have less than 100 losses this year, and Friday night was a good start.
It will be up to Freeland to keep the momentum going following Peter Lambert's start in the series opener. Lambert gave up a home run on the first pitch of the game and then shut out the White Sox on three hits over seven innings.
It was the kind of dominating performance Colorado fans have seen from Freeland in the past, most notably in 2018 when he won 17 games and was fourth in the National League Cy Young voting.
Facing Chicago could turn around his fortunes. Freeland, who hasn't won a start since May 14 against Philadelphia, is 2-0 and has not allowed a run in two career starts (15 innings) against the White Sox.
He took a no-hitter into the ninth inning in his rookie year at Chicago before it was broken up with two outs to go.
It also will help if the Rockies keep hitting. Colorado on Friday pounded out 13 hits and three home runs, one by Ryan McMahon, who has four hits in the last two games after a 2-for-32 stretch over his previous nine.
"It's not fun when you're struggling and your team is losing games like that," McMahon said. "I'm trying to nip it in the bud. Hopefully, today is the start of it."
The White Sox continue to struggle and are missing a couple of key pieces. Shortstop Tim Anderson began serving a five-game suspension on Friday night and won't play in the series, while outfielder Eloy Jimenez is on paternity leave and away from the team.
Anderson, who was suspended for his involvement in a fight with Cleveland's Jose Ramirez on Aug. 5, spoke to the media before Friday's game.
"My emotion got the best of me," he said. "And that happens. ... (Now) I've got to just keep working and understand that I've got to be better. I have to be better. I will be better."
Chicago hopes Scholtens can be better than Friday's starter, Michael Kopech, who allowed nine runs in four innings.
Scholtens has appeared in 19 games this season, five of them starts, and has yet to face Colorado in his career.
He is coming off his longest outing of the year but was saddled with the loss against Milwaukee last Saturday. He pitched 6 1/3 innings and allowed three runs on six hits.
—Field Level Media